Understanding What A House And Land Package Is, Its Benefits & The Build Process
When it comes to purchasing a home, the modern home buyer has many different options to research and ultimately choose from. One such option is investing in a house and land package.
Offering unparalleled customisation, house and land packages afford you the opportunity to build the home of your dreams. With Plunkett Homes, elements of location and design features are taken into consideration to design a home in line with your dream and budget.
In this guide we will discuss:
What is a house and land package?
The house and land packages are characterised by the existence of two contracts. As such, the buyer of a house and land package will buy the land and secure construction of the home in one process, but over two contracts.
By opting for a traditional house and land package, buyers are afforded the opportunity to customise their home. This is because the packages can be quite wide ranging. For example, some packages may just include the house.
On the other hand, some packages also include fencing, creating the driveway and installing a clothesline. Whatever the finer details of the package, individuals opting for a house and land package will be able to customise the final product to their needs.
What is a Turnkey home?
When it comes to turnkey homes, it's important to note that a turnkey property is a house that will be built and is fully finished (includes painting, driveway, etc) when the keys are handed over to the buyers. Turnkey packages offer a property that is complete and requires no further work.
8 benefits of buying a house and land package
There are many benefits to be enjoyed when purchasing a turnkey home:
Hassle-free Included in a turnkey house and land package is liaising with suppliers and obtaining quotes. This saves you lots of time and hassle.
Affordable: With a turnkey package, costs are outlined from the beginning, making it easier to budget and plan.
Buyer-friendly: Whether you're an investor or a first home buyer, a turnkey package affords you a streamlined building process.
Design for your lifestyle: While Plunkett Homes has a collection of house and land packages, we offer customised design services to ensure that your new home suits the way you live. For example, the Nederpelt family specified design inclusions to customise their house.
Tailor your floorplan: Whether you need a fourth bedroom or an office space that doubles as an additional living room, floorplans and elements of interior design can be altered to suit your lifestyle.
Highly customisable style: Plunkett Homes has a variety of different style options to choose from. For those living close to the coast, think Hamptons. For those in the heart of a suburb, think mid-century modern.
Build with the environment in mind: When you're involved in the building and design process, you can make active choices to include environmentally friendly materials and features.
Feel supported along the way: With one-on-one customer service, communication lines will always be open when you choose a house and land package with Plunkett Homes. Ensuring that you feel supported during the home-building process.
Financing a house and land package
Those purchasing a house and land package in order to build their dream home in their dream location will need two loans that are usually bundled together.
Mortgage options
When it comes to financing a house and land package, owners will need to take out two loans. One loan will essentially be a regular mortgage on the land. The second loan will encompass a construction loan for the actual building of the home.
When looking at repayments, these will begin once the land is transferred after settlement. In relation to the construction loan, this will be paid in increments to coincide with each stage of construction. Payment will require individuals to draw down on the loan.
Deposit requirements
In terms of deposit requirements, take into consideration the average cost of house and land packages being built in the West- where property investment is on the rise– by Plunkett Homes. This cost is, on average, $650,000. Of that $650,000, $200,000 accounts for the land. As such, a 20% deposit of $130,000 will need to be paid.
Do I need to pay mortgage insurance on a house and land package deal?
When purchasing a house and land package, a 20% deposit is required. Without a 20% deposit, new owners will be required to take out Lenders Mortgage Insurance (LMI). It's also worth noting that in terms of a mortgage, owners can typically borrow up to 95% of the home's value.
Stamp duty requirements
When purchasing a house and land package, stamp duty is typically only charged on the land, rather than both the house and the land. With this in mind, stamp duty is required to be paid once a settlement of the land occurs. For a turnkey home, stamp duty is paid at the settlement of the home.
There's a lot to consider when building a new home, and one of the first items you will need to consider is your home finance. Find out what you can afford by simply using our calculator and one of our specialists will get back to you with more information.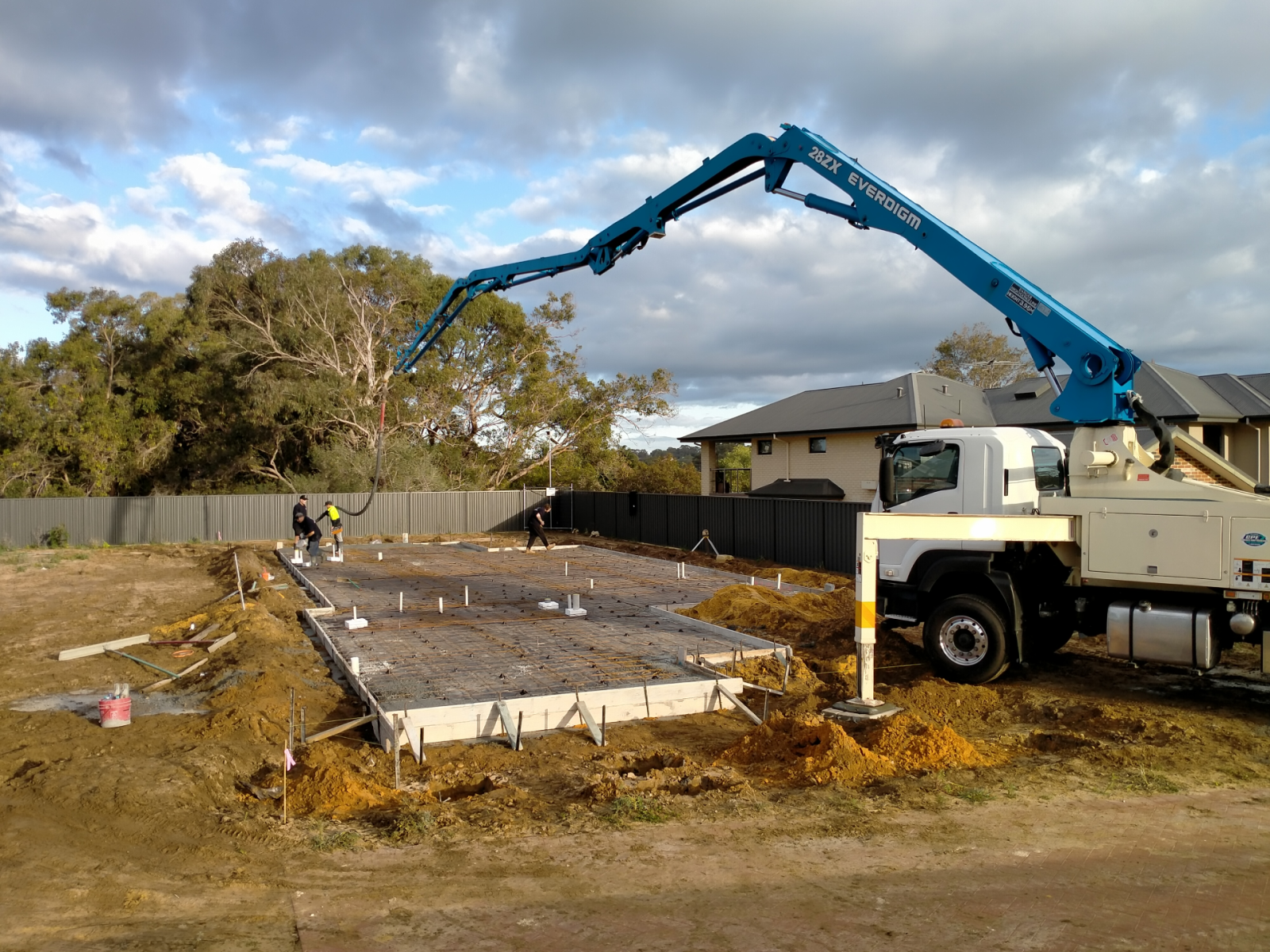 The five stages of construction
With construction loans contingent on certain construction milestones being reached, it's important to understand the different stages of the construction process. By having this understanding, financing is made easier as well as comprehending the progress of your home.
1. Pouring the slab
The first notable milestone is pouring the slab. This stage encompasses many different facets such as laying the foundations of the home, installing plumbing pipework and then pouring the slab.
2. Building the walls
The next stage involves building the walls. This is where the house starts to take its initial shape. During the building of the walls, it's also advised that anything that will impact the walls or structure should be built.
3. Enclosing the house with doors and windows
Also known as the lock up stage, basic lines for electricity as well as heating and cooling are laid. From there, plaster is installed along with ceilings, windows and remaining doors.
4. Internal fixtures and fittings
Generally referred to as the fixing stage, works will include the installation of internal cladding and cabinetry along with skirtings and architraves. Waterproofing in wet areas will also be conducted in preparation for tiling.
5. Practical completion
The final stage of constructing a home is practical completion. This essentially means that trades will arrive to fit light fittings, switches, taps and door hardware. Additionally, painting will be finalised and the carpets installed before final inspection.
Why House and land package is a good investment option
House and land packages present as viable investment opportunities. Offering financial incentives such as tax benefits and the ability to reduce stamp duty, house and land packages are a cost-effective investment option.
1. Strong rental yields
A brand new home will likely attract strong rental yields. Especially when you consider Perth's housing market at the moment. Median rent is $500 a week for houses, and the median rental yield is 4.4%.
2. Low maintenance cost
With a new build complete with new appliances and fixtures, there are relatively low maintenance costs associated with a house and land package. This saves money but also the hassle of coordinating trades or new product installations.
3. Tax benefit
There are also tax benefits associated with a new home such as a house and land package. With this in mind, furnishing costs can be claimed as a tax deduction over a period of 10 years.
4. Depreciation claim
Further to tax benefits, there is also depreciation claims to consider. Investors can claim the cost of building the property as depreciation for a period of 40 years. This is because the Australian Tax Office deems that a building should last 40 years.
5. Attractive to tenants
A newly built house will be more attractive to tenants than a home or unit that is ageing and therefore might need a bit of work. With this in mind, tenants will also pay more for the luxury of a new home. Especially when the vacancy rate in Perth stands at 0.5%.
Our tips for buyers and investors alike
Buying a house and land package can be a really rewarding endeavour. However, as the process can be quite involved, it can be easy to feel overwhelmed. As Plunkett Homes has been around for over a century, we have a list of tips to help make the process seamless.
1. Do your research
When looking to invest in a house and land package, research is key. Conducting research will help you decide the style and type of home that excites you. Importantly, it will also provide foundational building knowledge that will help to ease anxieties once construction begins.
2. Choose a trustworthy home builder
Choosing the right builder is paramount. This is because a builder has so much influence over meeting budget and also timeline requirements. Plunkett Homes has been involved with the WA home building industry for over 120 years. Our reputation offers peace of mind and confidence in our ability to bring your dream home to life.
3. Decide if you would like to make changes to the floorplan
Crafting a floorplan is an integral part of the home building process. Working with Plunkett Homes means that you can completely customise the floorplan or simply make changes to existing floorplans. However, it's important to note that floorplan changes should be decided upon early. This is because late changes will incur a cost.
4. Ask questions and monitor the process closely
Building with Plunkett Homes is an easy process. However, it's always comforting to also monitor processes. This way, you can keep informed in a timely fashion. Also, it's always ok to ask questions as this will help you understand the process and the associated milestones.
FAQs
1. Do I get stamp duty concessions on house and land packages?
When purchasing a house and land package, it's important to note that there are some stamp duty concessions available. However, in order to receive such concessions, certain criteria must be met.
For example, first home buyers can apply for stamp duty exemptions. The associated conditions stipulate that no duty is payable as a first home buyer if the dutiable value does not exceed $430,000.
Alternatively, first home buyers can apply for stamp duty concessions. This is applicable if the dutiable value of the home is between $430,000 and $530,000. As such, duty will be payable at a discounted rate of $19.19 for every $100 by which the value exceeds $430,000.
For investors, stamp duty will typically be higher should the house and land package not be your first home. For more information visit our House and Land Packages.
2. Is the Government's home builder grant available in Perth and WA?
The Government's home builder grant is available in Perth and WA, however, this grant is specifically designed for first home owners. With this in mind, first home owners will receive a one-off payment up to $10,000 when buying or building their first home.
3. How long does house and land take to buy and build?
Purchasing a house and land package is a process. For some builds, planning approval may be required, meanwhile, other builds won't need to receive approval. During some building processes, rain may cause delays, on other building sites, the sun may shine all day.
With this in mind, there are a lot of variables involved with building. Variables can be uncontrollable such as waiting on council approval or weather patterns. Variables can also be controllable like creating a floorplan or design inclusions with minimal changes along the way.
Factors pertaining to build size and location will also impact timelines. For example, a single-storey house will be built quicker than a double-storey or subdivided house. While a rural house might find delivery times to be longer than a house located in suburbia.
As such, there is no all encompassing answer on timelines. However, as you progress through planning and building, the Plunkett Homes team will contact you regularly with updates on your build.
4. Are foreign buyers allowed house and package deals?
Foreign buyers or non-residents are allowed to purchase property in Australia. However, in order to do so, buyers will need to apply for permission from the Foreign Investment Review Board (FIRB).
Conditions associated with foreign buying stipulate that investors can purchase new buildings as long as the property has not been previously sold or occupied. If the property is being purchased from a developer, occupation must not exceed 12 months.
Foreign buyers can also purchase vacant land. Conditions associated with such a purchase include the fact that the property must be constructed within four years of the FIRB's approval date. Upon completion, the FIRB must receive correspondence within 30 days.
Like the floorplan but looking for a different elevation?
One of the main attractions of investing in a house and land package is the ability to customise. As such, Plunkett Homes takes elements of customisation seriously. This means that, should you like a specific floorplan, it can be customised to suit one of four stylish elevation options ranging from Hamptons and Mid-Century to Federation and Contemporary.
It's also worth noting that the floorplan itself can also be customised to feature different inclusions such as a butler's pantry or designated drop off spot for school shoes and work bags. Even if something isn't on the plan, Plunkett Homes can help bring your ideas to fruition.
What's the next step?
There are many processes associated with investing in a house and land package. Firstly, interested parties must choose between a turnkey or more traditional house and land package design.
Elements of finance need to be considered, as well as the different stages involved when constructing a house. Additionally, those looking to purchase their first home will have different needs than those looking for an investment opportunity.
Whatever your circumstances, Plunkett Homes can help. Offering unparalleled industry insight and experience, we can help turn your home design ideas into a reality. Whether you have plans for a complete customisation or only a few small ideas, choose Plunkett Homes.
To start the process of investing in your very own house and land package, contact the team at Plunkett Homes today. When you're ready to build, we're ready to listen.