The process of building a home is a journey. From choosing the right parcel of land and designing the floorplan to deciding on an interior design style and picking the fixtures and fittings to match, each stage of the process is lovingly involved.
The end result is well worth it, especially when building a two-storey home. By maximising space without taking away valuable room from other areas such as the kitchen or outdoor entertaining spots, you can design a home that fits your lifestyle for generations to come. 
Opting for a two-storey home design opens up a world of possibilities and flexibility. With this layout, you'll always have room for your children to return home or for your parents to live with you, making sure that your residence can truly serve as a multi-generational haven.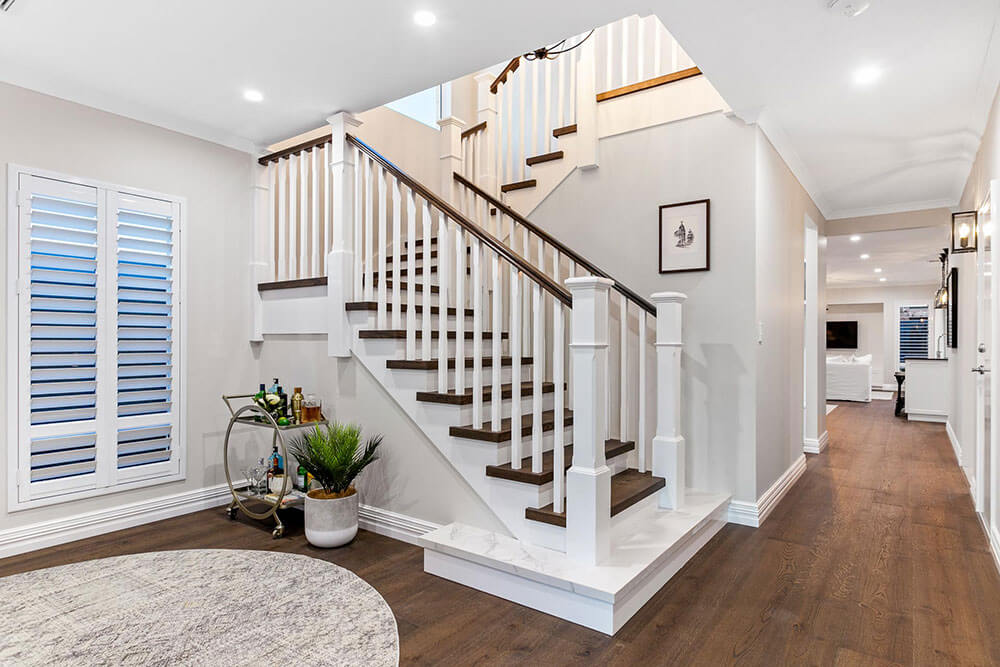 The benefits of a two- storey home
When it comes to building a two-storey home there are a lot of benefits to enjoy. Some benefits centre around privacy and noise reduction while others revolve around maximising space and increased design flexibility. What's even more appealing is that you can start enjoying these benefits right from the moment you move in.
#1: Greater design flexibility
Designing a two-storey home affords greater design flexibility. With more room to work with, you are provided with a variety of different options. You can choose to include an additional bedroom or specialised rooms such as a games room for kids or an art studio for yourself.
The ability to effectively utilise space also provides an opportunity to design the floorplan with zone living in mind. Making clear distinctions between private spaces such as bedrooms and communal areas like living rooms, elements of livability and functionality are enhanced.
#2: Increased privacy
Whether living with family, friends or on your own, everyone needs their own space. With a double-storey home, there is inherently more privacy because there is more space. 
So, with more room to retreat to, families won't feel like they are on top of each other. 
Additionally, if you need to have a private conversation or you are working from home, simply move to another area of the house and enjoy the peace and quiet.
#3: More space
With a double-storey home, space is at your fingertips. Regardless of the block size, when you build upwards you are adding more square footage. This means that you can have the best of both worlds – a multi-room home and a spacious outdoor area. 
#4: Views, views, views
When you build upwards, you are more likely to enjoy a view. Whether looking at a city skyline, treetops, the ocean or even the rest of your neighbourhood, nothing beats a great view! Don't underestimate the value of natural light and a point of difference, an ambient space can make all the distinction.
The challenges of building a two-storey house
While building a two-storey house has benefits in both the design and living stages, it's important to note that there can be some challenges. While these aren't necessarily deal breakers, it's important to be aware of all the nuances associated with such a build. 
Challenge #1: Time-consuming
When compared to a single-storey home, the process of building a double-storey house can be quite time-consuming. There are numerous factors and considerations to take into account, which can result in a more involved decision-making process. While this can potentially lead to an extended timeline for completion, you can help keep the building process on track by reducing the complexity of design plans and reducing floorplan revision. 
Challenge #2: Costly, both now and in the future
Building upwards requires more materials and labour and as such, the cost of building will be higher than a traditional single storey home build.  Cost discrepancies may also continue into the future with the cost of electricity, and heating and cooling being higher in double storey homes. To keep the cost of building a double storey home down, consider the different levels of inclusions offered by builders such as Plunkett Homes. 
Challenge #3: Less accessibility
Double storey homes will generally feature a staircase. For both the old and the young, this can significantly reduce the home's accessibility levels. To counteract this, at least one bedroom or bathroom should be on the ground floor, along with the kitchen and dining areas.
Challenge #4: Twice as much cleaning
A bigger house means more maintenance. More windows, carpets and surfaces to keep clean. Features such as air conditioners that are both upstairs and downstairs will need to be serviced, whereas a single storey home has one level to clean and therefore, one level of appliances to service. With this in mind, consider low-maintenance features such as plantation shutters or counters that only require a light dusting every now and again.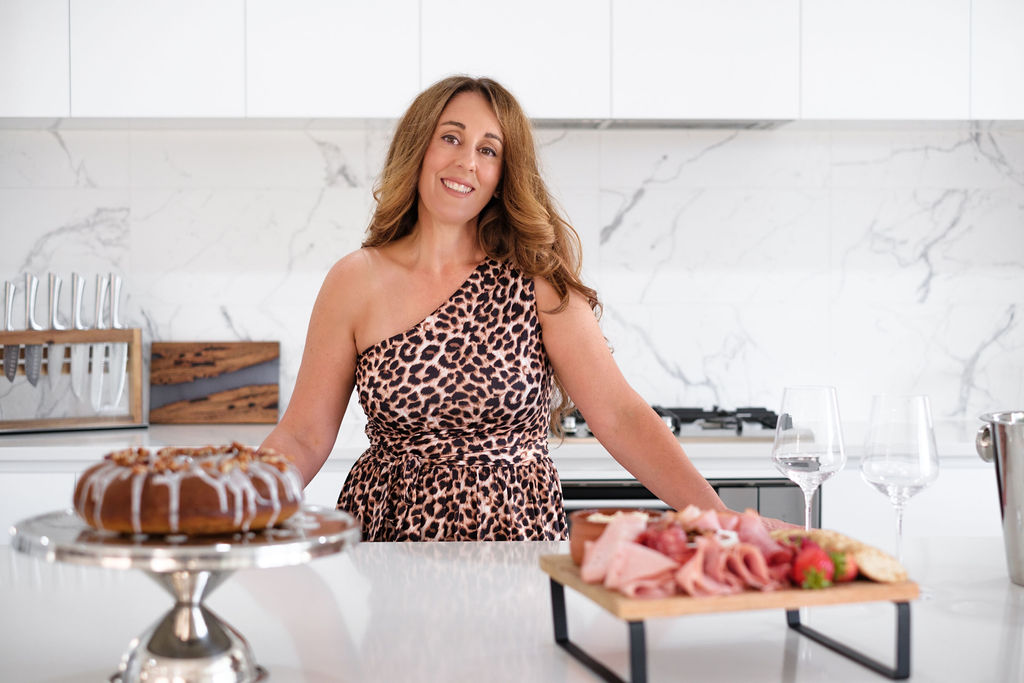 Real-life inspiration – how Marisa and Criss built a double-storey home to embrace multi-generational living
Part of the allure of designing a double-storey home is the fact that you don't need to find the home of your dreams, you can build it. Marissa and Chris did just that, bulldozing their investment property to build a two-storey home overlooking Hamilton Hill.
Complete with large areas ranging from the kitchen and bathrooms to living spaces and an outdoor cabana, Marissa and Chris transformed their visions into a reality that can be enjoyed by different generations. 
A true multi-generational home, Marissa and Chris' house makes use of upward space to create areas true to their lifestyle. This means that their new house is now the gathering point for both their small immediate family and large extended family.
By taking into account different aspects of their lifestyles, Marissa and Chris were able to channel their personalities into their home. The result? A two-storey home that features all the traditional benefits of double-storey living, plus some benefits unique to Marissa and Chris- such as a large open-plan living area perfect for their gatherings of thirty-plus family members, as well as more personalised inclusions such as oversized showers.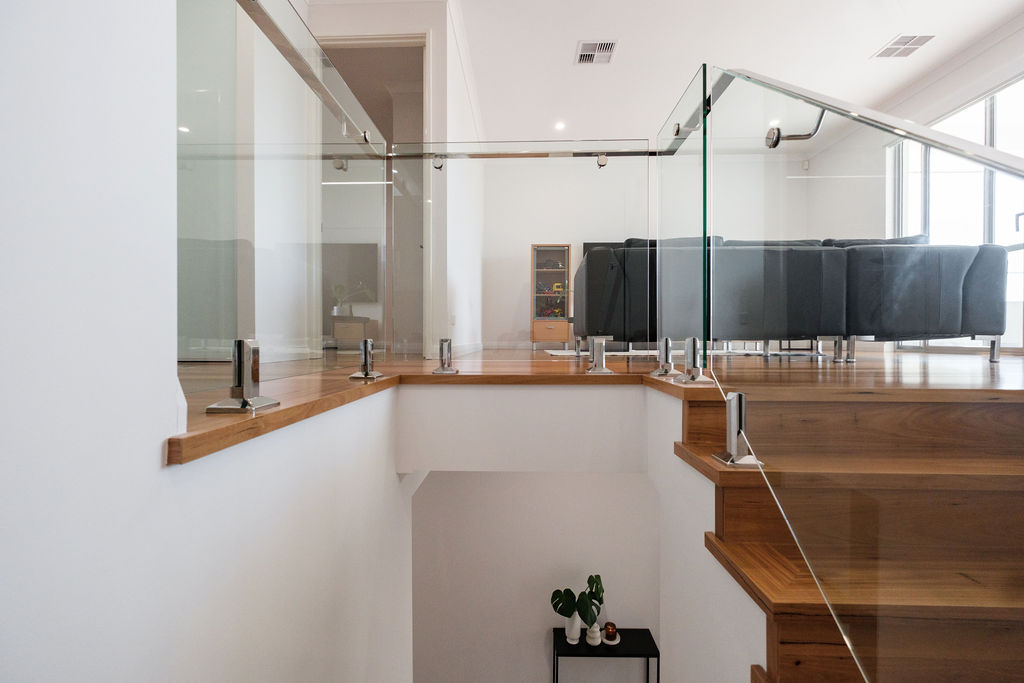 Have we convinced you? – Discover a few double-storey styles
From the minute you start designing your home, the benefits are instantly felt. With more room to work with, flexibility becomes inherent and therefore ensures that each space within your home can be crafted to be undeniably yours. 
At Plunkett Homes, our expert team is here to help. Start the process of designing your dream two- storey home by contacting us today, or, look for inspiration by browsing our range of design options for double-storey homes.