When building an investment portfolio, there are a variety of different options to choose from. You may opt to build an investment strategy around stocks and bonds, or look to the property market to make financial returns both in the present and in the future. 
One property investment strategy is subdivision. Rather than purchasing one home, a subdivision strategy revolves around acquiring a piece of land that can house multiple dwellings. 
With a host of benefits to be enjoyed, subdivision is a viable investment strategy. However, crucial to enjoying strong returns is taking into consideration factors ranging from location and land size to soil conditions and the current state of the market. 
Essentials of a Subdivision Strategy 
When it comes to subdivision, there are various strategies that investors can employ. After choosing the perfect piece of land, there is the option to build several homes that can be sold for profit. Another option is to rent out each home to create both cash flow and passive income.
To make sure your subdivision strategies lead to smart investments, it's crucial to focus on selecting the right land. Considering all aspects of a piece of land helps you make better investment choices.
Skipping this research might lead to investing in land that's not the right size or in the wrong location. This can significantly affect your subdivision plan and, in turn, your investment returns.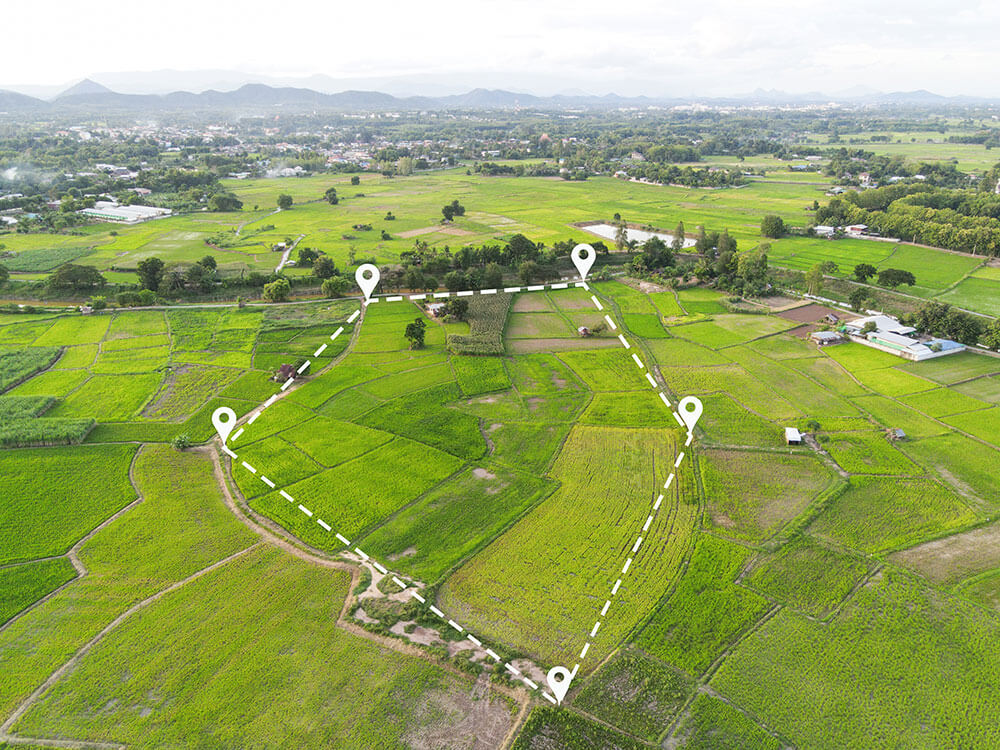 Key factors to consider
Before embarking on a subdivision strategy, there are different factors that investors need to take into account. While each is unique in its own way, they all have the potential to positively and negatively impact returns.  
1. Location
Location is everything when it comes to choosing a block of land for your subdivision strategy. Not only does location impact the amount of rent or the sale price you can command, but it will also impact the level of demand your property can create. 
With this in mind, look for blocks of land that are close to a range of essential amenities. These amenities include but are not limited to, shopping centres, schools, hospitals, and medical offices. 
Another thing to consider is the demographics of the area. If the neighbourhood is family-friendly, your subdivision strategy needs to account for this. Otherwise, you might find demand for your property to be low because it doesn't meet the key needs of families. 
Also, key to location is elements of accessibility. Is it close to essential infrastructure that makes it easier to get to work or school? When looking for locations, make sure to take note of the proximity to transport options such as freeways, bus stops, and train stations. 
2. Design and layout of properties
Just as the location is crucial, the design of the subdivision is equally important. Factors to consider include site interconnectivity and open space usage. 
There are various subdivision options (Battleaxe/Side-by-side/Multi-unit) and the choice depends on your specific situation.
For optimal resale, a side-by-side layout with street frontages is ideal, while long, narrow sites suit a front-to-back configuration. 
3. Zoning and regulations
Part of property investment is understanding things such as zoning laws and navigating permits and the approval processes. While these things can feel laborious, they are essential residential building elements. 
It's important to take note of the zoning laws and regulations attached to the neighbourhood you wish to build in. This is because zoning laws can, for example, dictate the height of your home. Each council also has permit and approval processes that need to be adhered to. 
In light of this, investors need to be aware of zoning laws and other regulations before acquiring a parcel of land. Otherwise, they have the potential to impact the vision you had for the land. The best way to navigate this is to work with an experienced sales professional who can help you to understand these.
4. Land size and shape
Before starting the process of looking for land, you may have a lot size or shape in mind. However, it's important to note that there are minimum lot sizes. By knowing this figure, you can determine if your lot can be subdivided into two, three, or four parcels.
In terms of shape, it can be easy to seek out flat blocks of land that are conventional. However, don't discount irregular-shaped lots. Designs for narrow lot homes are on the rise and they can perfectly complement a subdivision strategy. 
5. Home design
The best way to adhere to zoning laws as well as make the most of your land size and shape is to make sure your design seamlessly blends in with its surroundings.
Don't underestimate the importance of preventing issues like unwanted views and overshadowing, especially in areas where houses are closer together than the typical single-house-per-block setup. Balancing these concerns is an art, ensuring that both properties provide the right mix of space, comfort, and privacy.
Consider the front of your home – we're not just talking about the house itself, but also the landscaping of your front garden and driveway.
6. Topography and soil conditions
Topography and soil play a key role in the building process. This is largely because both have the ability to increase the cost of the build and also the timeframe in which construction takes place. 
With this in mind, soil tests need to be conducted to check to see if the soil is viable. Additionally, you will want to investigate elements of topography, specifically, elements relating to drainage. This way, during the design phase, you will know if you need to put preventative measures in place. 
7. Utilities
Depending on the location of the block of land, there may or may not be connected utilities. If there aren't any utilities available on site, you will be required to pay the cost associated with setting up services such as power, internet, gas, water, and sewerage. 
8. Market analysis
The property market differs from state to state, city to city, and suburb to suburb. To get an accurate picture of not only the state of the market but also your competition, market analysis is essential. 
Western Australia  has a thriving economy and property supply is low in relation to demand. This means that people are looking for properties to rent or buy and with demand outweighing supply, the price investors can command can be high. 
Employing a Subdivision Strategy as an Investor
Choosing the right investment strategy is often the culmination of hard work, research, and time. The same can be said for choosing the right block of land for a subdivision strategy. This is because careful land selection is vital for property investors.
By taking the time to investigate what makes up a great block of land, investors are better placed to build the foundation needed for their investment to thrive. For example, if your property is in a more affluent area, your buyers or renters may be after a large section of land, therefore just because the building codes allow a block to be subdivided into three lots, doesn't mean that's what you should do. If you're likely to have tenants, this may impact your choices of the fixtures and finishes of the homes.
Whether you're ready to start your own subdivision project today, or you would like more advice to make your investment strategies a reality, find out more about how Plunkett Homes Developments can help you – simply contact Plunkett Homes today.