When designing a house there are a lot of different factors to consider. From the facade of the home to the internal fixtures and fittings, everything needs to work together to encapsulate a certain aesthetic. 
In the pursuit of your preferred  design style, it can be easy to overlook  elements of home design such as creating a sustainable home for many years to come. However, with the advent of more environmentally friendly materials and design principles, it's now easier than ever to build an eco-friendly home.
Good sustainable home design seamlessly integrates with modernity to create a home that encapsulates the best design principles of today, while also thinking about the future impacts of being kind to the planet.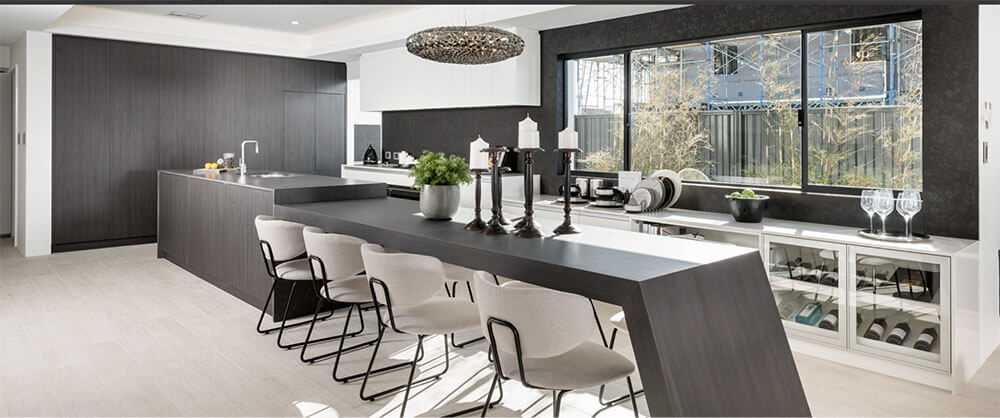 Sustainable materials and energy efficiency
When thinking about modern design trends, many  homes are incorporating wood into their facade. Creating a point of difference and therefore, aesthetic appeal, these facades are undoubtedly contemporary and also incredibly sustainable. 
Reclaimed wood is often used in these home features because it comes with many benefits. Firstly, using reclaimed wood helps to preserve trees and prevent over-forestation. 
In addition to this, reclaimed wood also positively impacts elements of energy efficiency. When used on the outside of the home, wood helps to provide insulation against weather elements (the heat and the cold!) as well as  sound. 
With the outside of your home working to keep the inside warm in winter and cool in summer, you can reduce the cost of running appliances such as heaters or air conditioning and therefore improve your energy efficiency. 
Renewable energy integration
In terms of roofing, modern home design generally follows two trends, either a sloping or skillion roof or a flat roof. Both design options lend themselves to the minimalist feel often present in modern homes. 
They also both offer the option to embrace  housing renewable energy sources like solar panels. While installation can be expensive, over time, solar panels typically pay for themselves. Also, you can essentially create your own energy without having to rely on conventional sources that harm the environment. 
Modern tech innovations
Part of modern life is technology. Naturally, modern home design incorporates different elements of smart technology. Modern homes often embrace a futuristic vibe with concrete and space grey aesthetics, while integrating cutting-edge technology enhances this aesthetic appeal.
From smart thermostats and lighting to automated blind control and motion sensors, modern technology is truly value-adding and can make your lifestyle more convenient while also helping to reduce your carbon footprint. 
With the ability to offer climate control measures and for example, automatically close the blinds to maximise cooling efforts or turn off lights when rooms are deemed to be vacant, smart technology helps homes use energy efficiently and effectively. 
Water conservation and efficiency
In modern homes, it's incredibly easy to be sustainable in terms of water conservation. This is due to  incorporating appliances such as dishwashers and washing machines. Both of these machines, when used appropriately, save a lot of water.
Fixtures such as tapware also play a large role in conserving water. In modern homes, tapware is increasingly becoming a method by which to stand out. Whether you opt for brushed metal designs or simple and elegant black taps, you can choose to make them low-flow which helps to conserve water. 
Measures such as rainwater harvesting and greywater recycling are also great ways to conserve water. With the ability of these measures to water gardens and lawns, every drop of water in your home is being put to good use. 
Waste management and recycling
Waste management can be employed in modern homes from the design and build stage right through to everyday living. Recycled or repurposed materials can be featured during the building process to ensure a unique look on the outside of the home or for internal features.
In terms of waste management and recycling once you are living in your home, think composting. Modern kitchens are typically designed to feature a lot of cabinetry and therefore contemporary composting systems which automatically transfer waste and can easily live in one of your cabinets.
Artistic expression, customisation, and sustainability
At the heart of modern homes is functionality. Every space has a purpose and every piece of furniture has one, sometimes even two purposes! With this in mind, there are many ways to infuse your modern home with your own particular brand of artistic expression. In the design stage, look to prioritise home inclusions that fuse sustainability with modernity. 
When decorating the interior, think of furnishings that can have a green twist. From designing shelving units to house books in your home office to finding a way to store wood for your fireplace, there are plenty of ways to infuse your personality into your modern home while also keeping sustainability at the fore.
Rather than buying brand-new materials, consider using recycled wood to craft your bookshelves. Look at second-hand stores for firewood holders or repurpose plastic crates and paint them to complement your colour palette. Embracing sustainability can really be that simple.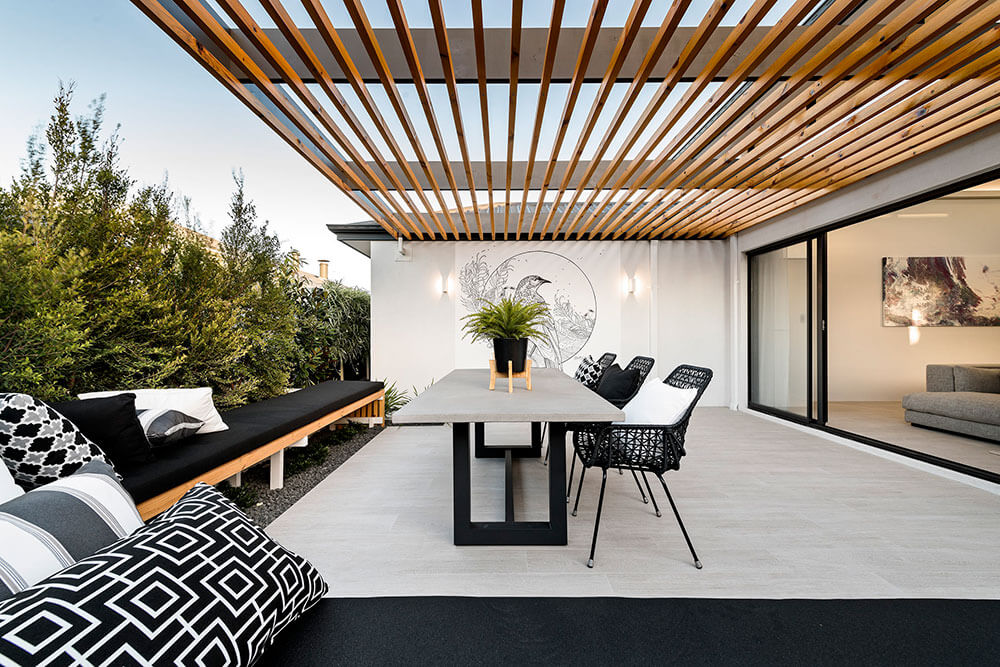 Sustainability and the modern home
When designing a home with a particular style in mind, compromising on the overall aesthetic simply isn't an option. However, with the advent of everything from eco-friendly materials and water conservation tools to smart technology, fusing sustainability with modernity is seamless.
Effortlessly blending style with methods of efficiency, modern homes are quickly becoming the pinnacle of sustainable design. For sustainable, modern homes for a stylish and forward-thinking lifestyle, browse our home designs or contact Plunkett Homes today.