Plunkett Homes have gone back to its farmhouse roots. When it designed the Leeuwin, an elegant new country home-style showcase in Geographe Bay. But it was quick to add in some modern surprises along the way.
Homely, comfortable and spacious.
As a matter of fact the Leeuwin comes with an easy choice of floorplan changes. These have been pre-tailored to suit a variety of priorities.
From entertaining at home, to meeting the practical demands of a rural lifestyle on acreage. There's a variation of the Leeuwin to suit. Along with the classic 'all-rounder' version of this versatile county home.
A Home For The Modern Family
Matt Poynton, Regional Manager at Plunkett Homes, says "Although the Leeuwin pays homage to the quintessential West Australian farmhouse style. It's very much a home for the modern family."
"Plunkett has been building homes since 1903 so we feel a connection to the original country style WA home. But the needs of today's families have evolved. And we continue to evolve with them," Mr Poynton said.
Country Home Roots
"In designing the Leeuwin, we wanted to get back to our country home roots. But present a modernised version. Inclusive of some of the latest in design styles and construction techniques. Along with all the conveniences the modern family requires."
For example these include Panasonic reverse cycle air-conditioning with iZone controller and smart home capabilities. What's more a 900mm ILVE cooktop, oven and rangehood. A 1200mm-wide entry door, 31-course ceilings in the living areas and a hobless shower in the ensuite.
A Family Home
As displayed, the Leeuwin is a four-bedroom, two-bathroom design with a study, scullery, open-plan kitchen and living area. In addition a second sitting room, formal lounge and an alfresco complete the floorplan.
The 'outback' version of the design features a practical mud room. While the 'entertainer' has an extra-large alfresco with direct access to the kitchen.
The scullery is a popular feature and integral to the kitchen design. Especially aiding in hiding the kitchen sink and dishwasher from view. And also provides plenty of extra bench space and storage.
A dual fireplace divides the everyday living and dining area from the second sitting room or home theatre. Adding an extra layer of homely comfort as well as a sense of separation.
As with many traditional farmhouse designs the home is split into three distinct zones. In case a central living area divides to one side three minor bedrooms creating the perfect children's zone. Additionally on the other side the formal lounge and master suite. Which both feature French doors to the veranda produces a serene parents retreat.
The wrap-around verandah is a classic farmhouse touch. Complemented by a gable roof and a light colour palette that keeps the look fresh and modern.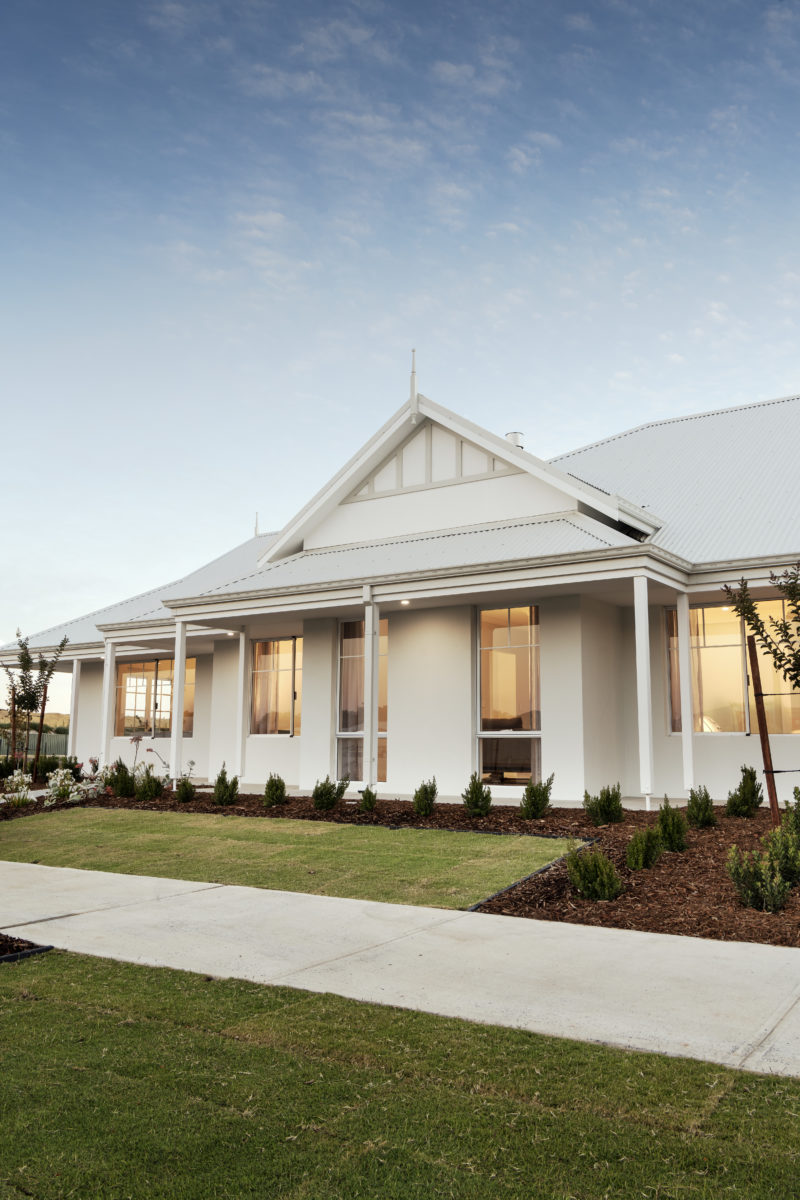 "Perfect for acreage, or a suburban family looking for a country-style home on a corner block. The Leeuwin blends a sense of tradition with light, bright styling and spaces that are easy to live in. Whatever your lifestyle priorities are," Mr Poynton said.