Fortunately, home theatres are no longer just for the rich and famous. With affordable technology and nifty design ideas, you too can have a true movie theatre experience. You won't even have to worry about leaving the house or overspending.
Check out these eight inspiring ways to optimise your home theatre to create enjoyment and entertainment the whole family can enjoy.

Get Cosy
Use your theatre screen as the anchor point of the room. Aim for a home theatre that has little in terms of styling but still packs a punch in feature, such as our Westbury Display's statement wooden feature wall. This stunning and subtle design element creates a sense of warmth, with dark hues that complement the plush grey couch.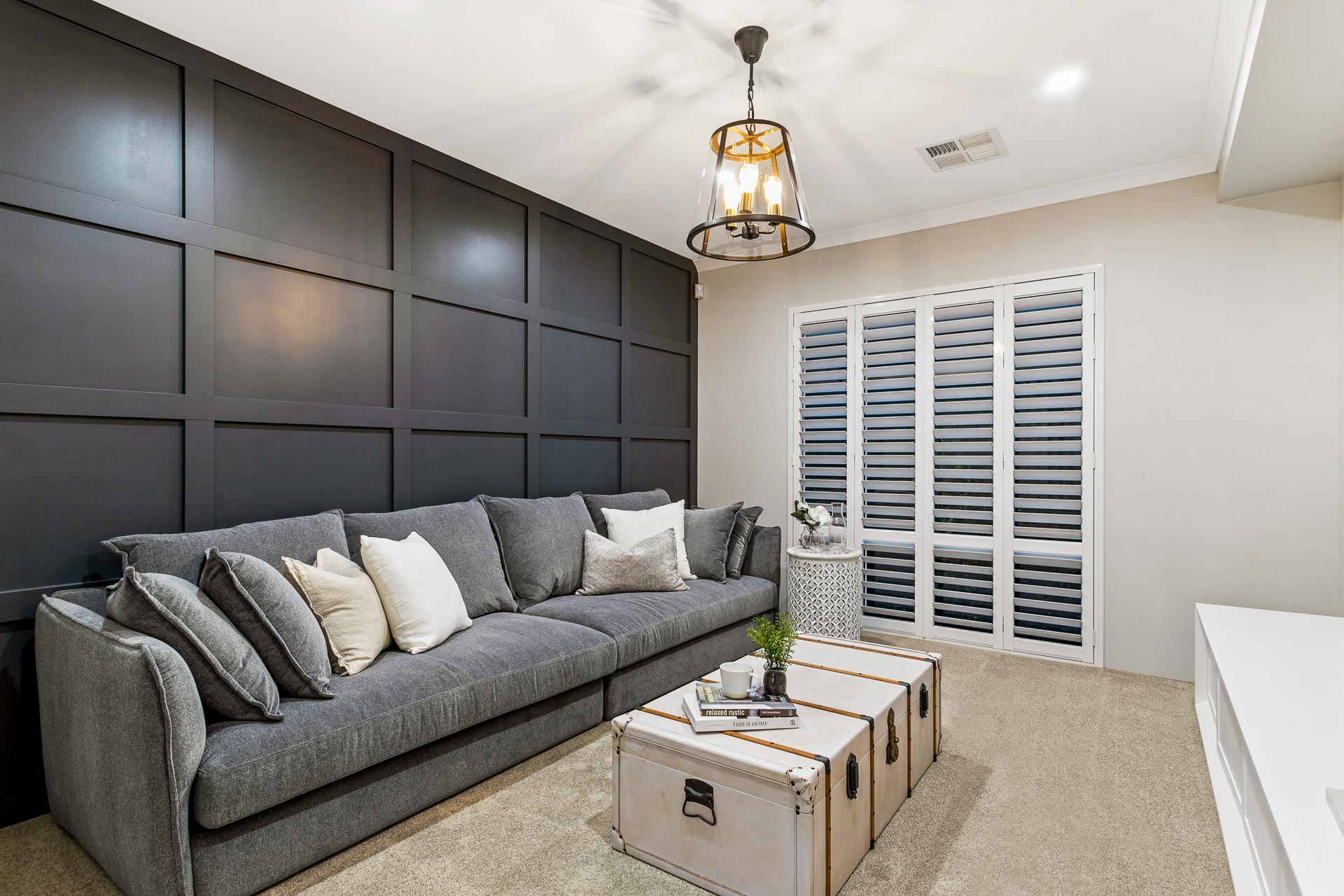 An elegant and modern design
Transform your home theatre into a space that looks elegant and classy by using timber laminate floors. These not only look good but are easy to keep clean.
If you are hesitant to try something too edgy, start with the flooring first. Do this by incorporating a statement rug, and then go up from there.
But there is one guaranteed way to make your home theatre a modern masterpiece, putting an accent colour or print on a featured wall. This adds interest, style and energy to your home theatre.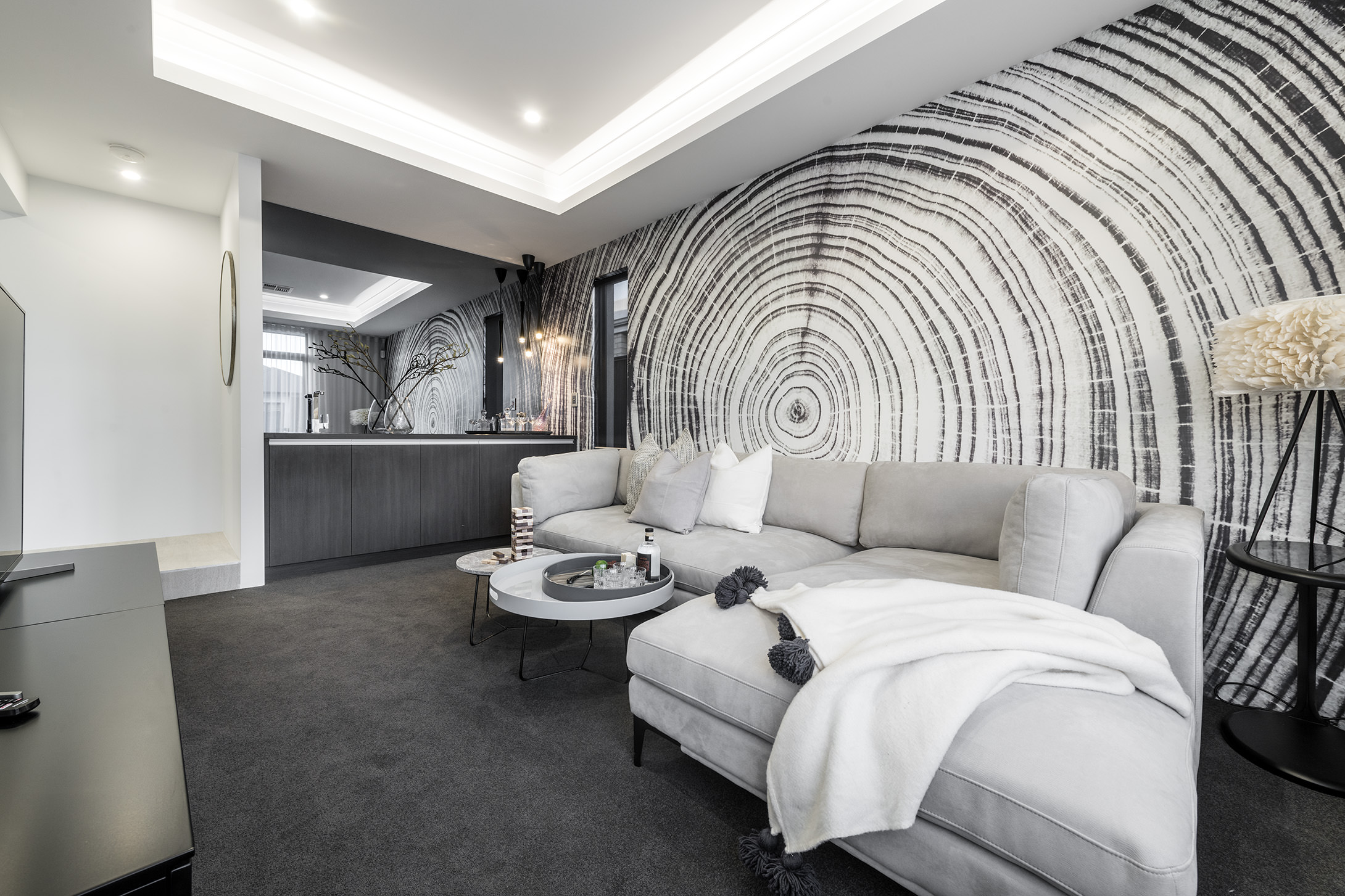 Add Your Personality
Add some personality and fun into your home theatre by simply opting for a brightly coloured plush lounge. They look great contrasted against white walls and help stamp the home theatre as its own unique space in the home.
But don't forget the walls! Consider displaying your favourite vinyl records, film posters and prized autographs on the wall to add that sentimental touch.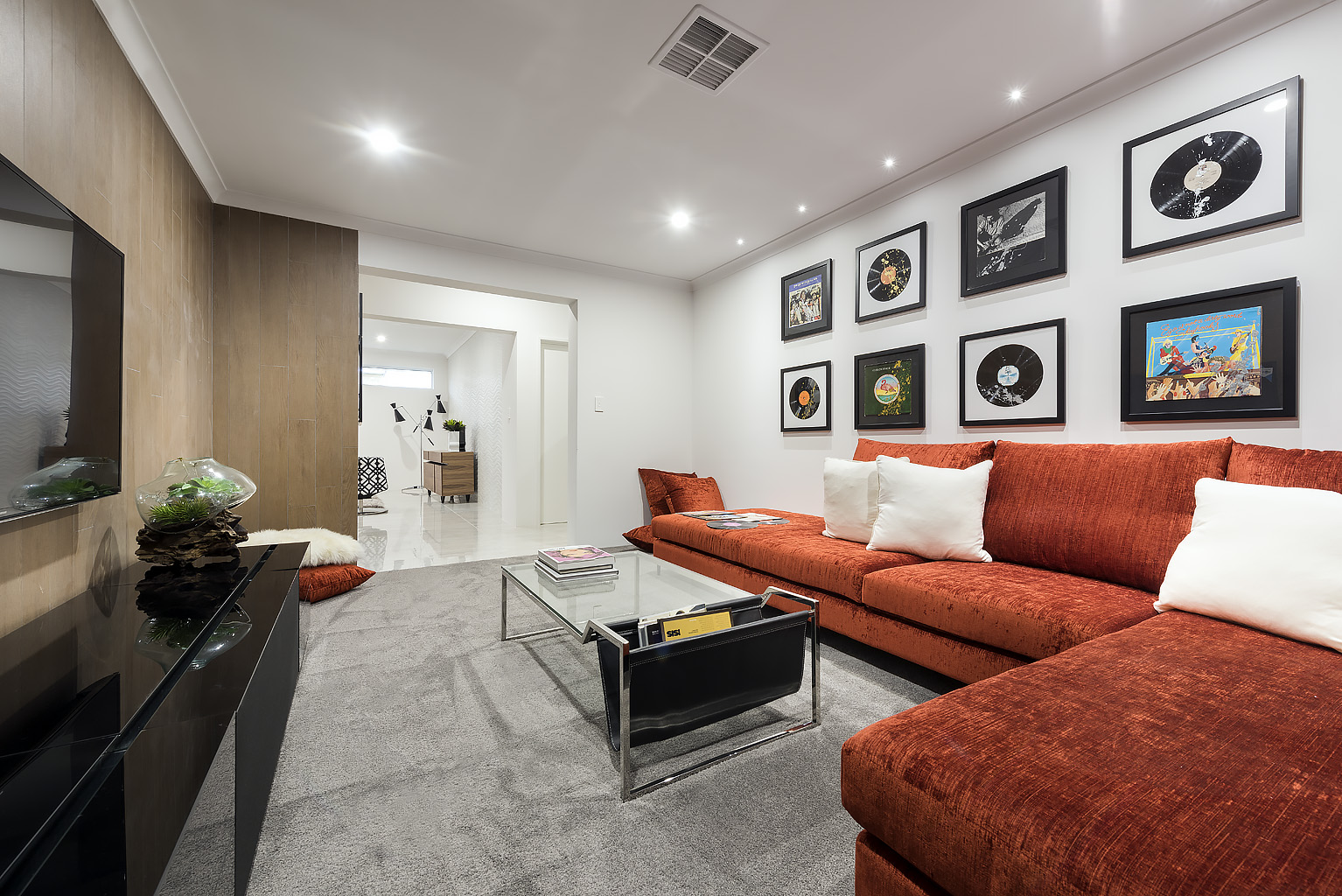 Open, airy and fresh
When people think of home theatres, they may think of dark, dedicated spaces with a big screen and theatre-style seating. However, new trends are emerging where home theatres are integrated into open spaces. Connecting spaces like the living room or even the alfresco. With window treatments like blinds or curtains, lighting can easily controlled.
The Dark Side
Bright colours reflect light, and that could be distracting when there's a brightly lit scene on the screen. Opt for a darker room and wall colour, experimenting with shades of neutral browns, tans, olive, grey and navy blue.
A darker home theatre creates a cosier vibe. And is a popular interior design option for those who like strong, bolder colours in their home.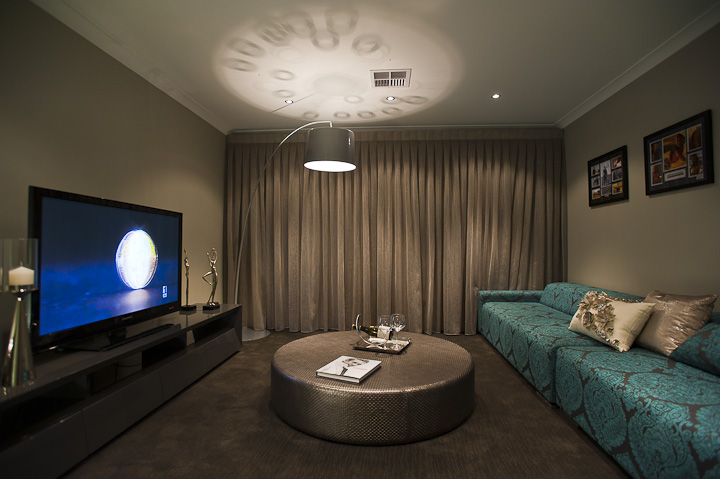 Bachelor Pad Inspiration
Do you love a more pared down aesthetic, something a little basic, but dramatic and reminiscent of masculine sensibility? Consider turning your home theatre into a masculine-chic retreat, the ultimate uni-sex destination.
When properly done, masculine-inspired interiors are slick, minimal and effortless. Stick to the rule of using three colours. Be sparing with decorative pieces and keep minimalism in mind. Create a vibe that James Dean would be proud of.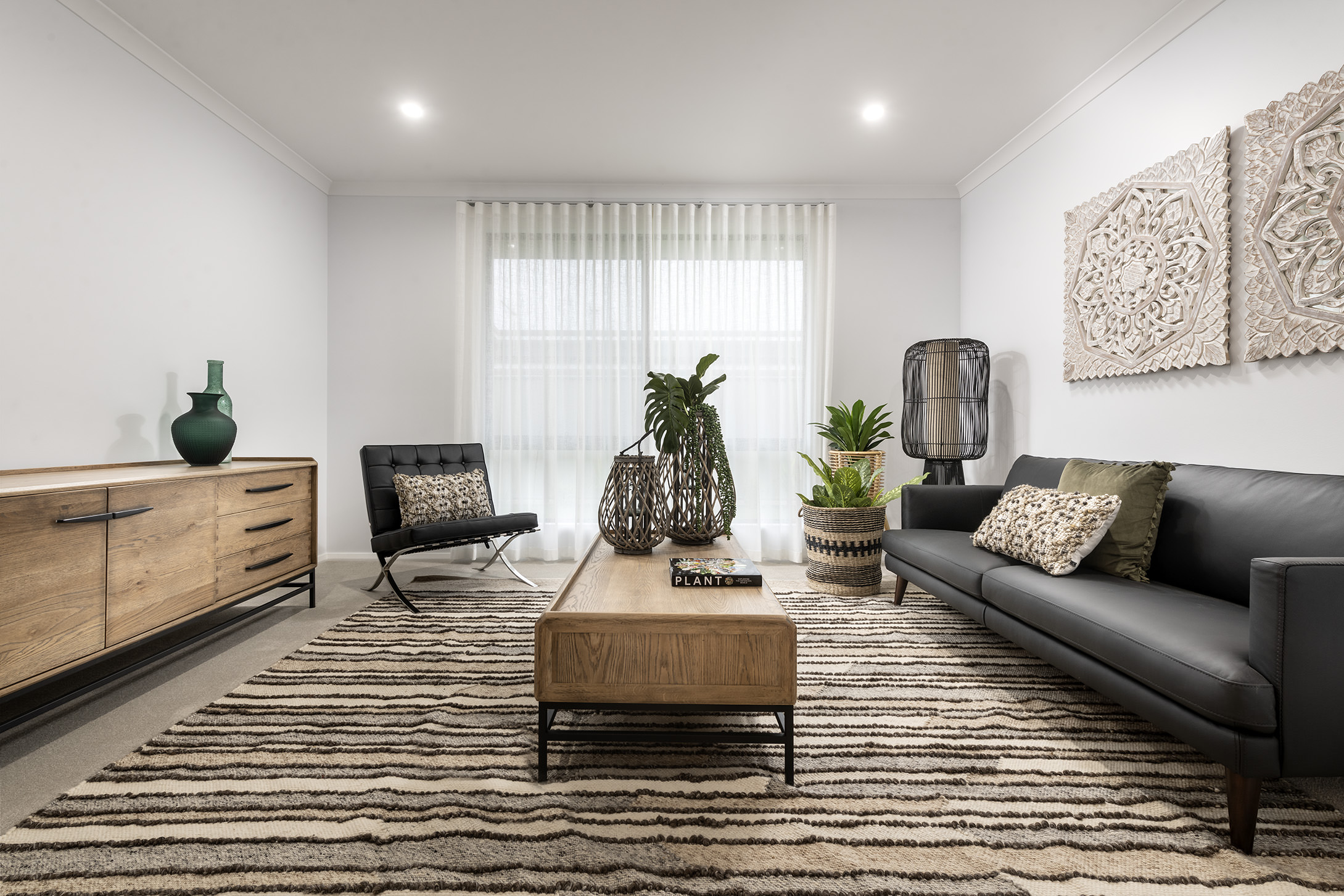 A Multi-Purposeful Home Theatre
Don't have space for a home theatre? Consider turning your home theatre into a multi-purpose room to conserve space.
Whether it becomes a man-cave on Sunday when the footy is on. Or a fun place for the kids to gather with friends; the home theatre can be a flexible room to suit the needs of every family member.
To design a multi-purposeful home theatre, stick with the interior design basics. An L-shaped lounge, a coffee table, sheer curtains or blinds and carpet will make it an easy room to customise.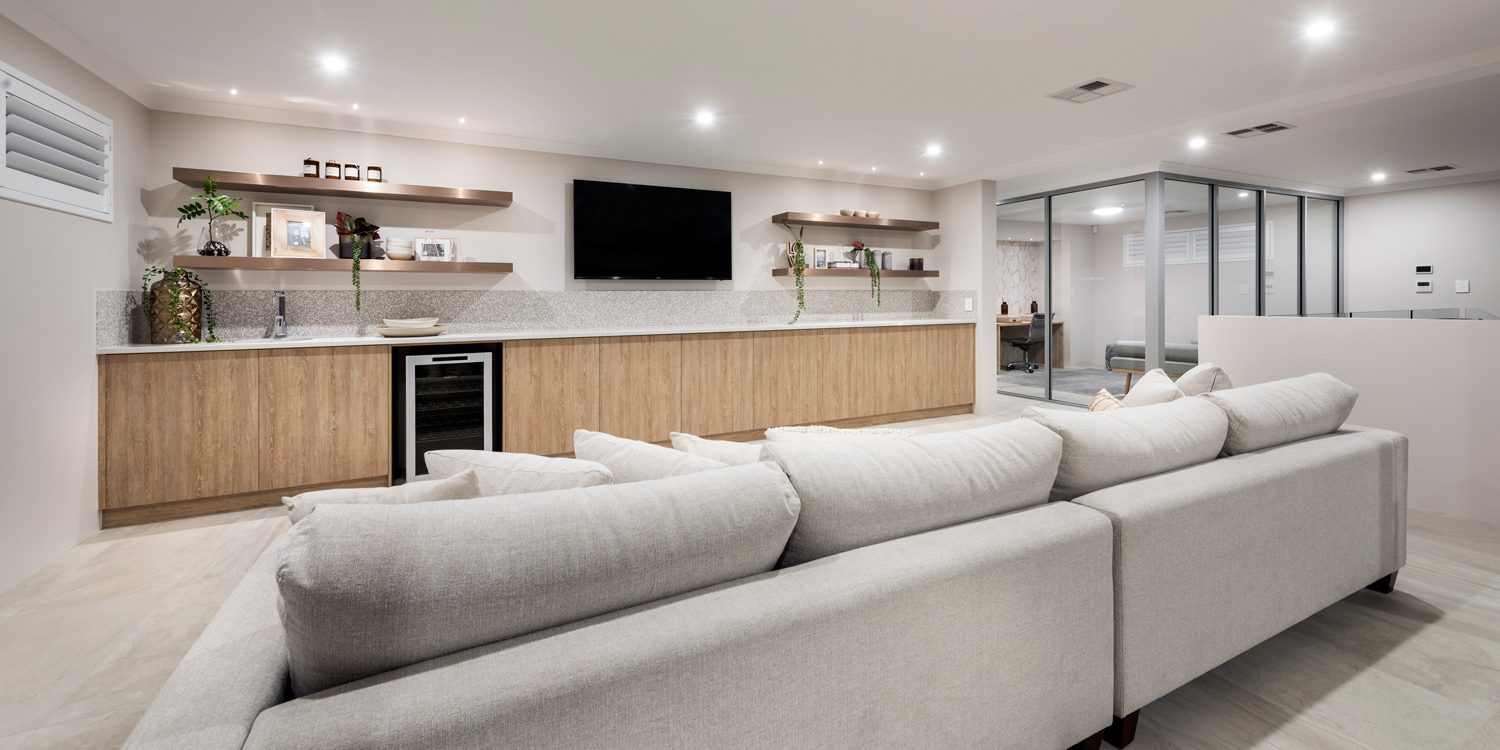 Lighting is Key
While large windows are ideal for the rest of the home, the theatre should have little natural light to avoid glare on the screen. A trendy standing lamp should do just the trick.