Woodlands is approximately 8 kilometres from the Perth CBD and located within the City of Stirling local government area. Woodlands is one of Perth's first original northern suburbs. There's a lot of history here, like its name. In 1842 the area was named 'Jackadup', the Aboriginal name for the area, and was later adapted to 'Jackadder Lake', which still exists as the main lake in Woodlands.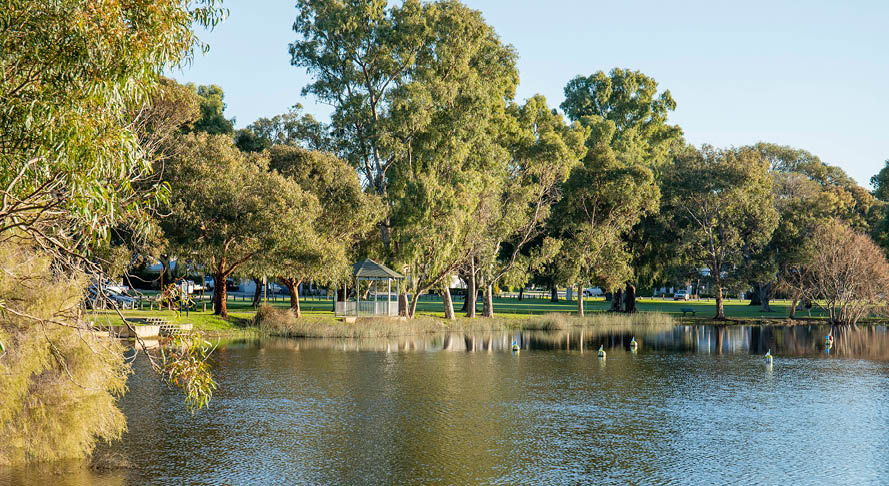 Woodlands is full of beautiful greenery. So much, in fact, that many of the streets here are named after trees, like the oak, birch and willow. The recreational options are fantastic here with Jackadder Lake and Herdsman Reserve. Residents love the myriad of grassy reserves available, with swings, slides and many walking and cycling paths. It also has its own dog walker subculture.
While greenery is in abundance, there's also the beach close by. If you're dying for a dip, in under 10 minutes you can be enjoying the surf, sun and sand at Scarborough Beach, Brighton Beach or Trigg Beach. Being close to the coast is brilliant, but having the city within easy reach is an added bonus. Travelling into the city by car will only take 15 minutes, and a ride on a local bus or train in will get you there in under 45 minutes. Alternatively, Woodlands is right near the Stirling Train Station, so just hopping on the Joondalup line will get you to the Perth Underground Station in
Shopping, food and amenities are not hard to find. Woodlands Shopping Centre is fantastic for medical advice with two doctors surgeries practising there. Many great cafes and restaurants also sit in the suburb. Do you love going to the movies? Well, happy days because Westfield Innaloo Shopping Centre is right next door and Event Cinemas is across the road.
When buying a home in Perth, scope out the local schools if kids may be in your future. This will also help out when your property is for sale one day as proximity to schools and amenities will keep your resale value high. The local primary school is Woodlands Primary School. Outside the suburb borders lie Hale School, Churchlands Senior High School, Newman College, Yuluma Primary School, and Doubleview Primary School. This provides a great mix of primary and secondary, public and private, so all boxes are ticked.
The population of Woodlands is 4,145 with a density of 2,180 persons per square km. The suburb demographics is mainly established and older couples and families and elderly singles who make up 50.7% of the total residents.
Annual growth of the suburb is sitting at 39.4%. Based on settled sales as of 4 April 2022, the median land price in the suburb is $860,000 (reiwa.com.au).
If Woodlands sounds like your cup of tea, why not make the next step? Contact our Sales & Design Team so we can get you started with a house and land package or custom build.