Two Rocks is approximately 61 kilometres north of the Perth CBD and within the City of Wanneroo. The suburb name was approved in 1975 and comes from two prominent rocks you can see sitting offshore from Wreck Point.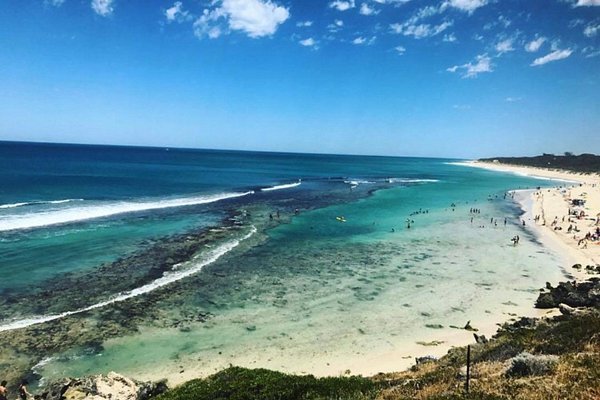 Resting between Yanchep, Wilbinga, Yanchep National Park and the Indian Ocean, Two Rocks is a small town with a big heart. And an even bigger coastline to enjoy! If you've been looking to get out of the hustle and bustle, then Two Rocks could be the sea change you need. Affordable land can be snapped up at Atlantis Beach – Two Rocks, one of the fastest-growing beachside communities with all the perks of Perth's iconic coastline. Land is now selling across four releases from just $152,000. It's worth taking a look at!
At Atlantis Beach, you'll find everything from an IGA supermarket, a bakery, newsagent and post office, to a chemist, liquor store, wellness clinic and gym. There's plenty of cafes and restaurants to satisfy your taste buds too. Grab a coffee at Neptune's Café or find a table and try their famous fish and chips. For a mid-morning or afternoon snack, there's The Oven Door Bakery offering fresh-baked goodies you can't go past.
If you're wondering what there is aside from water activities, there are plenty of parks and playgrounds in the area. Over 40 hectares of new parklands and open space areas with BBQs, shelters and playground facilities are planned for families to enjoy. Whether you're visiting the skate park, footy oval or one of the many adventure playgrounds, there will always be plenty of options to keep active. The newly upgraded Two Rocks Marina is your destination for a day's fishing, diving or just cruising up and down the coast. The revitalised marina makes it possible to be casting off just minutes from your front door.
Residents have access to top-class educational facilities with Two Rocks Primary School and Atlantis Beach Baptist College just around the corner. There is also a Cuddles Early Learning & Childcare centre in Two Rocks. Other schools in neighbouring suburbs include Yanchep Beach Primary School, Yanchep Lagoon Primary School and Northshore Christian Grammar School. For high schools, you have the choice of Yanchep Secondary College, Northshore Christian Grammar School, St James' Anglican School, Alkimos College and Butler College.
We've had many clients who thought the inner-city life was for them. But when you get the chance to take a step back, breathe in the clean air and revel in your natural surroundings, it's hard to ever go back. After watching a couple of sunsets over the water in Two Rocks, you'll be content with your relocation decision.
The population of Two Rocks is 3,918 with a density of 75 persons per square km. The suburb demographics is mainly a mix of established and older couples and families, and elderly singles who make up 46.5% of the total residents.
Annual growth of the suburb is sitting at 8.1%. Based on settled sales as of 28 March 2022, the median land price in the suburb is $145,000 (reiwa.com.au).
If Two Rocks sounds like your cup of tea, why not make the next step? Contact our Sales & Design Team so we can get you started with a house and land package or custom build.