Edgewater is about 23 kilometres north of the Perth CBD. Edgewater was approved as a suburb name in 1974 due to its location on the western shores of Lake Joondalup. Its local government area is the City of Joondalup. Edgewater is an established residential area with light industry in the south-west.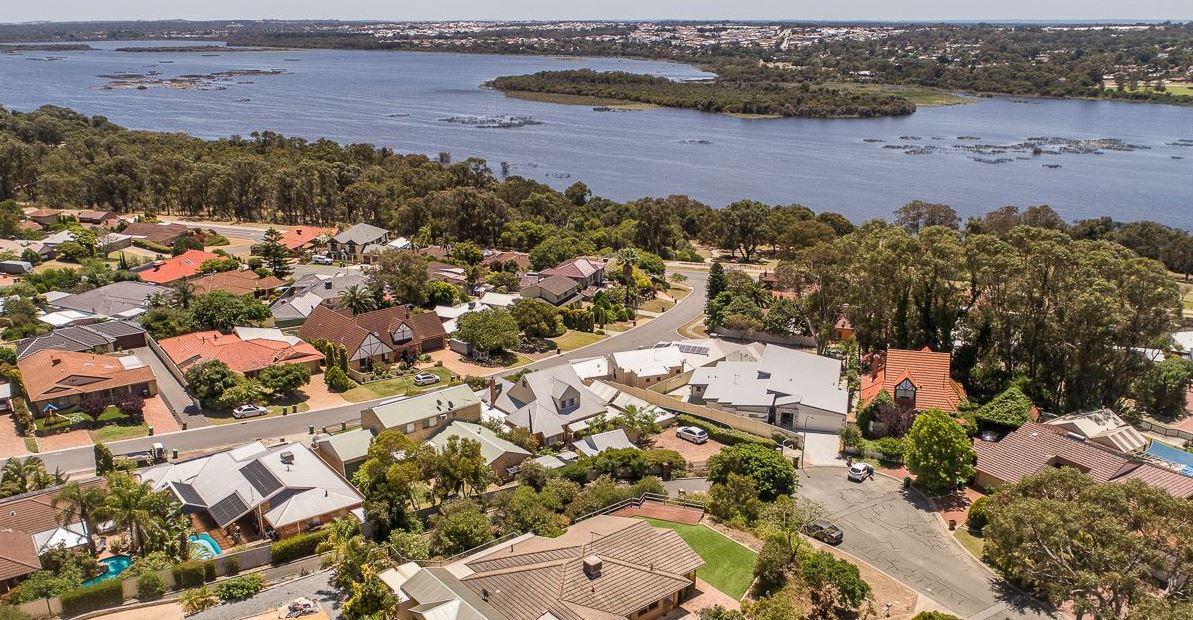 Edgewater is bounded by Eddystone Avenue, Joondalup Drive, Lakeside Drive and the suburb of Joondalup in the north, Lake Joondalup in the east, Ocean Reef Road in the south and the Mitchell Freeway in the west.
Edgewater not only sits nestled in Lake Joondalup and a short 5 minutes from Joondalup Central, it is also surrounded by easy access to public transport. Commuting into town for work will take you 25 minutes by car, or simply hop on a train at Edgewater Station and enjoy a 20-minute seamless train ride to the city centre. If you're looking for a bus ride, Edgewater is serviced by two bus routes from Joondalup Station.
If you like spending time outdoors you won't be short of options. Edgewater has 11 parks covering nearly 22% of total area! Emerald Park, Picnic Cove Park, Hilltop Park and Wedgewood Park are just a few, but the hero is definitely Yellagonga Regional Park. The entirety of Edgewater's western border offers over 3km of lakeside frontage onto beautiful lake Joondalup in Yellagonga Regional Park. This large natural reserve is criss-crossed with popular walking trails and studded with tree lined parklands and includes BBQ facilities and playgrounds – perfect for a picnic with the family.
Shoppers are well catered to with convenient local shops like an IGA, green grocer and liquor store. For a bigger shopping expedition, Lakeside Joondalup Shopping City is your destination only 10 minutes' drive by car. With over 300+ retail shops, multiple food courts, big brand stores and a cinema, you could spend a whole day here. Stretching along the freeway side, Joondalup Square and Joondalup Gate have more major retail outlets such as Bunnings, Spotlight, Freedom Furniture, Retravision and BCF.
Families needing schools for their children have the option of two public schools and one private school. Edgewater Primary School, an independent public school, and Belridge Secondary College, an independent public co-educational high school – both only 5 minutes' drive from Edgewater. Mater Dei College is a private catholic co-educational school serving secondary students.
The population of Edgewater is 4,567 with a density of 936 persons per square km. The suburb is heavily populated with older and established couples and families that comprise 46.8% of total residents.
Annual growth of the suburb is sitting at 15.8%. Based on settled sales as of 7 February 2022, the median land price in the suburb is $541,500 (reiwa.com.au).
As of 10 February 2022, there are currently 4 land lots available in Edgewater, and 119 available in nearby suburbs (domain.com.au).
If Edgewater sounds like your cup of tea, why not make the next step? Contact our Sales & Design Team so we can get you started with a house and land package or custom build.