Have you been dreaming about your future home, located in a friendly suburb, tree-lined streets, and living on the city fringe? Are you starting to get that sense that it is finally time for you to commence the hunt for the perfect suburb and house and land package for your new home? Our team at Plunkett Homes know you well, and we think we have found a winner here. Introducing Dianella – a large, well established family-friendly suburb, offering many open reserves and parklands, all very centrally located to the city! Does it get much better when looking at houses for sale in Perth? Let's go on…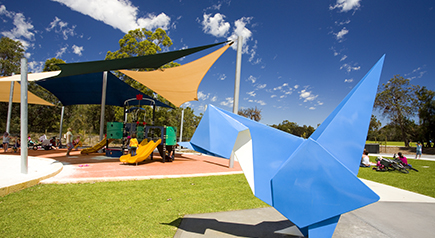 With everything on offer, from modest dwellings to contemporary two-storey homes, the landscape of Dianella is expansive and the perfect location for you to start your search for homes for sale in Perth. As we've already mentioned, being so central has its perks – and within a 10 minute cruise you'll be pounding the pavement along Beaufort Street. Jam-packed full of eateries, entertainment and nightlife, this strip is one of the most happening locations in Perth right now and is conveniently close to Dianella. Closer to home you'll find houses for sale in Dianella have access to two local shopping precincts, Mirrabooka Square and Dianella Plaza. Locally there are many fast-food eateries and amenities but if you're needing more variety, major shopping centre Morley Galleria is just a 10-minute drive away.
The major City of Stirling Leisure Centre Terry Tyzack Aquatics is a short five minute drive, where you can use the aquatic area or the gym facilities. Fancy a round of golf? Not far from Terry Tyzack is the Mount Lawley Golf Club, just one of the many beautiful parks and reserves in the suburb.
One of our best property buying tips and advice is choosing a suburb that is in a central location to everything necessary in your life. Dianella prides itself on being a central suburb, and it is true. By car, you will reach the Perth CBD in under 20 minutes or via public transport, catch one of the many local Transperth buses into the city within 30 to 40 minutes.
Some first home buyers in Australia plan for the future, and decide on a suburb if there are excellent local schools in the area. If this is you, you'll be pleased to hear Dianella has plenty to choose from and trust us, this list is long! Within the suburb alone there is St Andrews Grammar School, North Morley School, West Morley Primary School, Sutherland Dianella Primary, Banksia Montessori School, Dianella Heights Primary School, Dianella Secondary College, Dianella Primary College and Intensive English Centre, and the Australian Islamic College. In neighbouring suburbs it is worth mentioning Chisholm Catholic College, St Peter's Primary School, Infant Jesus School, Our Lady of Lourdes School, and Carmel School which aren't far away.
We want to make this process as easy as possible for you. We have a long list of house and land packages in Perth suited for you, so why not give us a call on (08) 9366 0414, or submit an enquiry online to find out the latest information we have available. Find your ideal home today!