In times past, the Whadjuk Noongar people knew the place that is now Alkimos as Wardan Gaba Boodjera – the land with the oceans to the west. Today the suburb of Alkimos is named after the shipwreck of the Greek freighter Alkimos which ran aground on the coast nearby in 1963.
This beautiful coastal suburb within the City of Wanneroo has now become one of Perth's most sought after suburbs due largely to the extension of the Mitchell Freeway and the railway link. Its unique location in proximity to a pristine expansive coastline, accessible beaches, affordable housing and growing employment centres are making it an increasingly popular destination.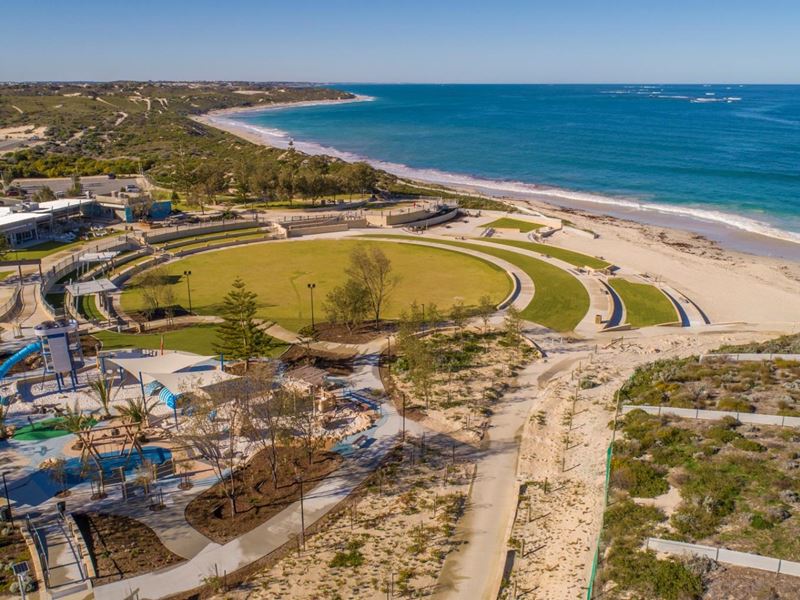 Location is everything, and it is crucial to pick a spot you know you'll love long term. Alkimos is only 5 minutes from the beach, 15km north of Joondalup and 40 kilometres north-west of the Perth CBD. If you need to commute to the city for work, you can do it within the hour. By taking the Mitchell Freeway, you can be in Perth City in under 40 minutes. Or maybe you would rather utilise the excellent transport system we have in Perth? Get one of the local buses to Butler Train Station and take the Joondalup line down to the Perth Underground.
Residents say Alkimos has a relaxing and welcoming atmosphere, with a quiet and safe environment. The suburb is covered in native banksia woodland, scrubs and heath, and offers uninterrupted views across the ocean.
Alkimos is home to some fantastic schools. Alkimos Primary School and Alkimos Beach Primary School are the two local primary schools. Alkimos College opened to Year 7 students in 2020 and will grow to Year 12 students by 2025. Butler Primary College is also nearby.
Two of the newest developments that are reshaping the area include the new residential community of Alkimos Vista, delivered by Lendlease and DevelopmentWA, as well as Peet's Shorehaven at Alkimos.
Alkimos Vista has a choice of everything from terrace lots to something bigger for growing families and everything in between. Options currently available include titled lots ready to build on now and soon to be titled lots ranging from 180sqm to 450sqm. Land currently available is just a short stroll from the popular Picasso Park.
Shorehaven at Alkimos is a vibrant beachside community, full of over 1,000 families calling Shorehaven home. Popular spots include Shorehaven's Treasure Island Adventure Playground and the bustling beachside restaurant, Oceans 27. Coast Stage 1 is now selling with lot sizes ranging from 180sqm to 459sqm.
The population of Alkimos is over 11,000 with a density of 711 persons per square km. The statistics show this suburb is very popular amongst families with maturing couples & families making up the largest percentage of the population at 26.7%. Both established couples and families, and young families represent 20% of the population.
Annual growth of the suburb is sitting at 5.9%. Based on settled sales as of 17 January 2022, the median land price in the suburb is $223,000 (reiwa.com.au).
If Alkimos sounds like your cup of tea, why not make the next step? Contact our Sales & Design Team so we can get you started with a house and land package or custom build.