'I never thought about having a home or getting married, I just wanted to travel.' This isn't a statement you would expect from a person who has been in their home for 35 years, but Peta and her husband Peter have lived in their sprawling Plunkett Homes house since 1987. And as soon as you walk into the entranceway—vibrant with the original jarrah floorboards and walls painted red and dark blue—it's obvious they have stories to tell. Adventures from the past are embedded in every part of the house. Mementos, photographs, and eclectic decor, hinting at their previous nomadic existence. It's a house with a thousand stories.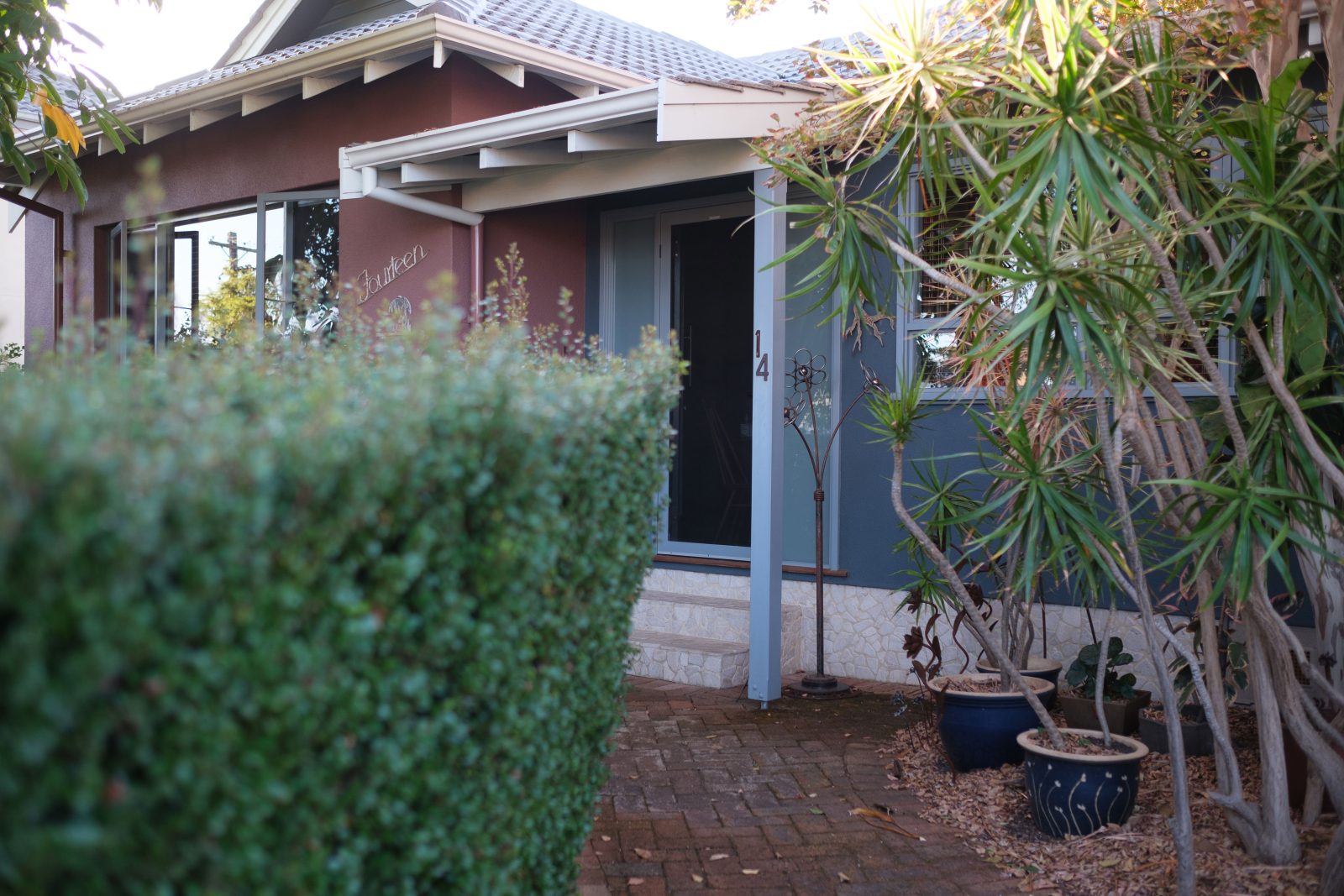 Explorations that brought them together
Originally from the UK, Peter has ticked off nearly every continent, visiting places like Israel, Egypt, Greece, Myanmar, and Turkey. 'When I was young, you didn't really have a plan. You didn't pre-book, you just got on a train and said, "Let's go there",' he says. In their small front living room, the late afternoon sunlight pours through large windows, highlighting a vintage movie poster and a collection of photos on the wall. 'That poster's from the Philippines; my wife and I met by coincidence on the movie set,' Peter says, 'You can see my name down at the bottom there.' 
It turns out that Peter acted in several low-budget Vietnam War movies in the early eighties and he met Peta on the set of Crossbone Territory. 'I didn't go to the Philippines to get into movies, it just happened. I was looking for work and the opportunity came along,' he says. Peta explains the concept further, 'It was a legitimate thing,' she says, 'Hollywood brought their film crews over and then they got people like us to be extras, and that's how their Vietnam War films were made.'
Next to the poster for Crossbone Territory hung a photograph of a young woman wearing a white dress and hat, with the glossy, blurred effects so popular in the eighties. Apparently, Peta hadn't been acting regularly like Peter, she was a model from Perth, working for Filipino designers to fund her travels. Once she met Peter, the rest of their adventures through Asia began.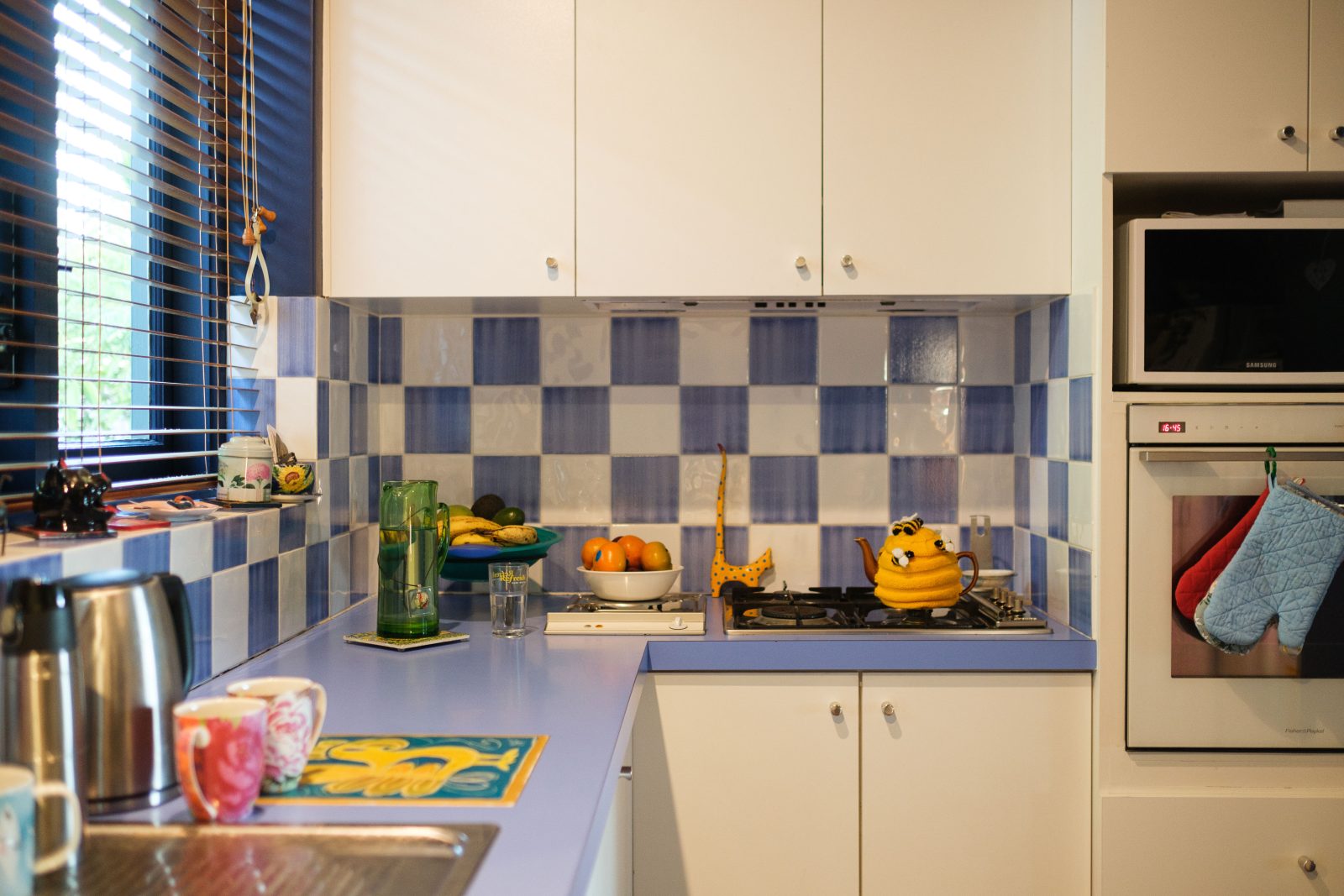 A house worthy of an adventurous spirit
The original Plunkett Homes design remains in the front rooms of their house, where the historic elements have been highlighted and restored. Then, there's a network of hallways, leading through a couple of overstuffed offices and a bright blue tiled kitchen. And you come out in the modern open-plan extension of the home—which was completed in 1995.
The walls are the most striking part, painted a deep teal and decorated with collections of photos and hanging ornaments. A salt lamp glows in a corner, cats are usually snoozing on the dining table, and through the glass sliding doors, a tropical garden oasis is visible—complete with an enticing pool and a pond of giant koi fish.
Peter and Peta kept the beauty and character of their historic home, and then expanded outwards, adding brilliant colours and global souvenirs that imbued the house with their adventurous spirit. Instead of a photo album, their house is the canvas for their memories—sometimes literally, like with the children's nursery, which still has detailed hand-drawn paintings across the walls.
'It's good when people can put their personality into their homes, but I don't think they do very often. They build with selling in mind, not to stay there forever. But when Peter and I moved in here, we always thought we would stay forever,' says Peta.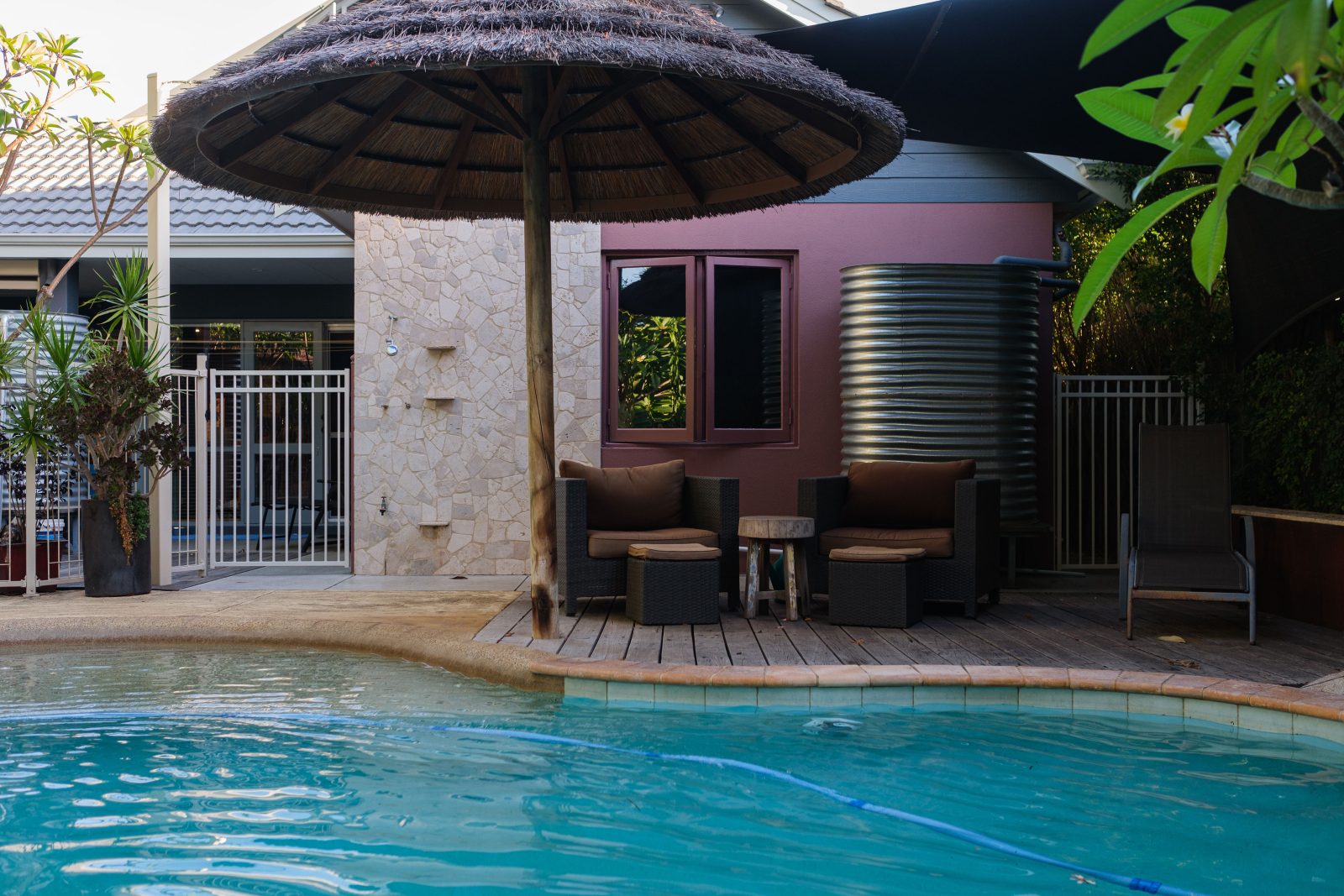 The return home to Perth
This nomadic couple spend a couple of years exploring Asia after their time filming Crossbone Territory, stopping in places like India and Myanmar after the Philippines. It was a volatile time in history, and they witnessed the after-effects of two assassinations—Philippine senator Ninoy Aquino in 1983 and Indian Prime Minister Indira Gandhi in 1984. Peta tells the story with unafraid gusto, explaining their experiences with curfews and martial law.
But then, in 1986, something closer to home made them return from their travels. 'My Mum got really sick.' says Peta, 'I had been away from her for five years by then, so I thought 'I need to go home, I need to go see my Mum'.
Stories woven into the fabric of a home
After nine months waiting for Peter's visa, they finally arrived back in Perth. And the little 1940s Plunkett home in Melville, on a massive quarter-acre block, was where they settled.
'I've never had the desire to move, I still don't. I joke with my son and say, "I'm going out of here in a box",' Peta laughs. And Peter agrees, 'Why would you ever move away from something like this? You come home and it's just beautiful, we love it.'
Every family that lives in a Plunkett house adds their own stories to the fabric of the home. The lives they have lived before don't disappear, but are absorbed—leaving a piece of them behind, always. Although the colour of the paint may change, Peter and Peta's eclectic home in Melville will always have an imprint of their unique, adventurous lives.