It's natural to search for community when choosing the place to spend your life; a sense of belonging is an essential part of building a home. However, few people find the sort of true community that Holly and Michael have on the 60 acres they share with generations of friends and family.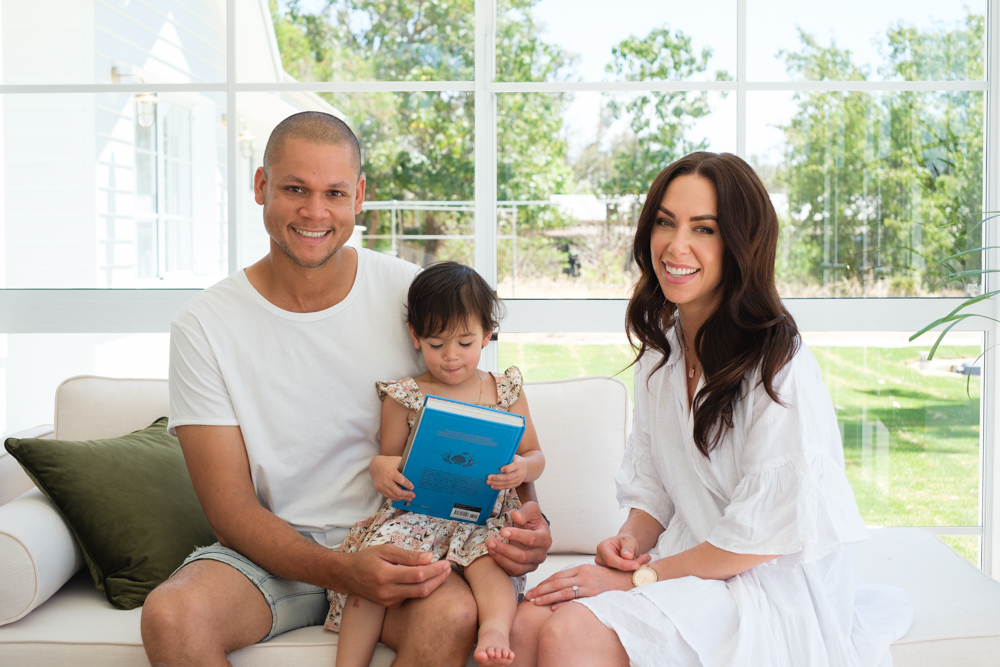 Making a home on the family property
Michael's family has owned the land in Banjup for decades, slowly subdividing over the years and either selling or keeping the blocks in the family. It's a cluster of homes in a haven of lush bushland that separates them from the rest of the city, and as Holly says, 'You feel like you're in a completely different world'.
Not only is this a return to a wholesome, family-oriented way of life, but the home they have built is a realisation of their dreams. Michael has been working towards creating a home on his family's property his whole life and Holly has dreamt of building a 'big, white house' since she was a little girl.
Comparing their story to a fairy-tale is cliched, but when a couple's interests and plans align so perfectly there are few other words that spring to mind. And Holly agrees, 'When we met, we knew instantly that we were meant to be together, and everything fell into place.'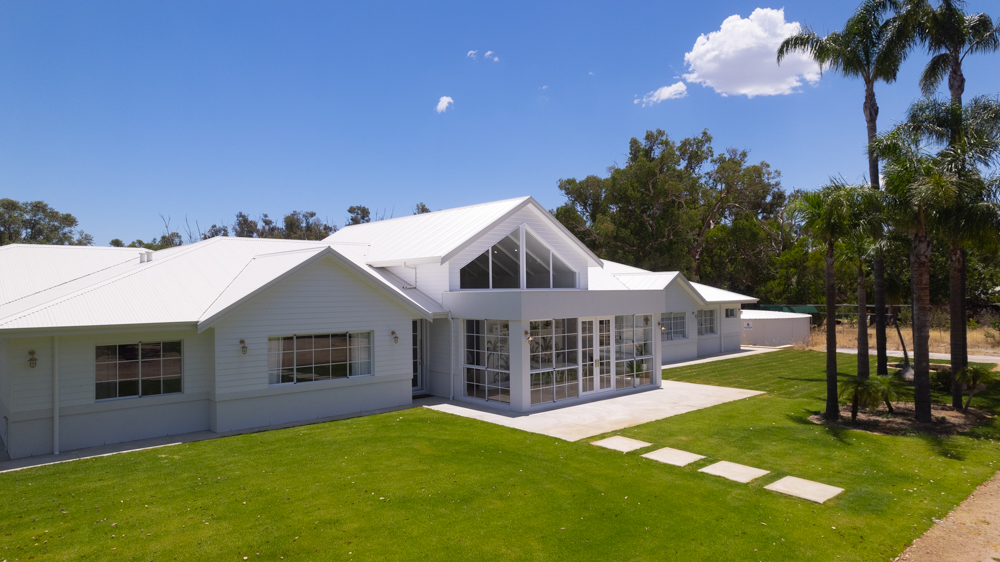 Designing their perfect home
After only a short time together, Holly and Michael bought property on the family land and built their first house with Plunkett Homes. It was an investment property, a test run where they could learn everything they needed for the next house—the one they intend to stay in forever.
Once they had sold this house, Holly says, 'We knew what we wanted, we just needed someone to design it for us'. And again, they chose Plunkett Homes. The couple went for a similar style, but on a much larger scale. A sprawling farmhouse design, pristinely white and towering above vibrant green lawns.
Holly and Michael designed the house specifically for a large, busy family, with an open-plan kitchen, dining, and playroom that flow into each other and make it easy to keep an eye on their children—plus retreats for adults like the peaceful sunroom with views of palm trees and forest.
The immaculate interior was all Holly. She collected furniture pieces for months, storing them in a sea container on the property. Her prized find is the four-metre mango wood dining table which sits as a centrepiece in their airy living room, highlighted by sunshine pouring through the enormous floor-to-ceiling windows.
After officially moving in during October 2022, Holly says, 'This house is just incredible, there's not a single thing we would change about it'.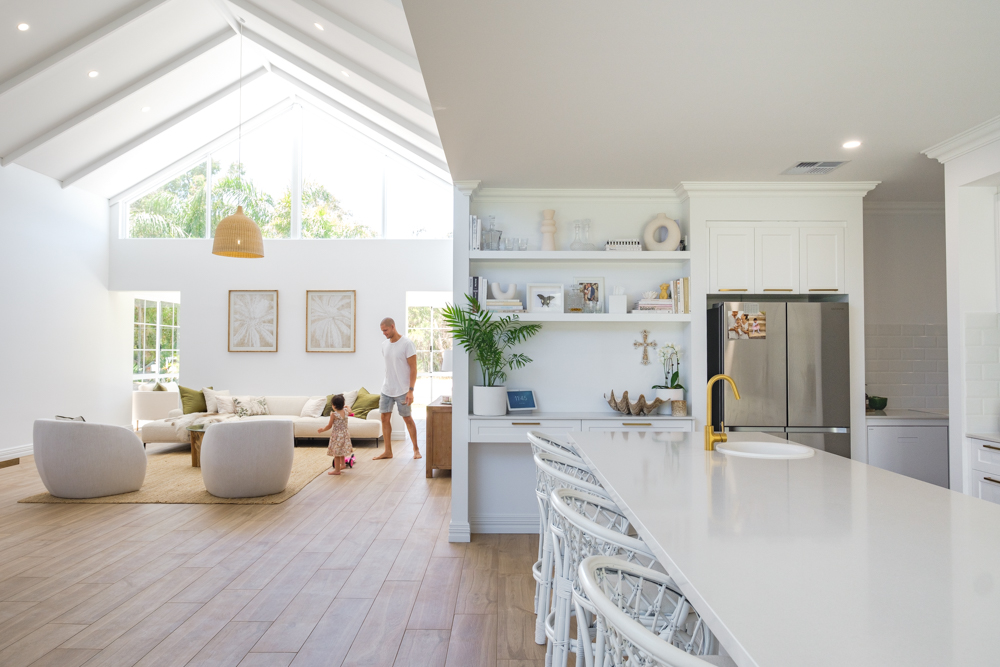 A village-style oasis
An extended family living in three homes, on three five-acre blocks, side by side—this wouldn't be everyone's ideal, but for Michael and Holly, it just felt natural. 'The whole family is incredibly close; we do everything together. I'm very blessed to marry into such a wonderful family,' says Holly.
The land is like their own little village, they even have their own road, Carriage Chase, which didn't exist before they started building. And all of the families on the land look after each other. Every time Holly goes to the shop, she drives past the other houses to see if they need anything. They have dinner together at least twice a week, and they are planning to build a neighbourhood gym.
The countryside lifestyle is part of the charm. A five-acre block means expansive lawns around the house where Holly and Michael play with their small daughter, Willow, as well as space for fruit trees, bushland, and a 'secret garden'.
'We all love it. We've always got the kids outside, running around. There's so much room to play and do things. I don't think we'll ever subdivide further. We'll definitely all hold onto the acreage we've got,' says Holly.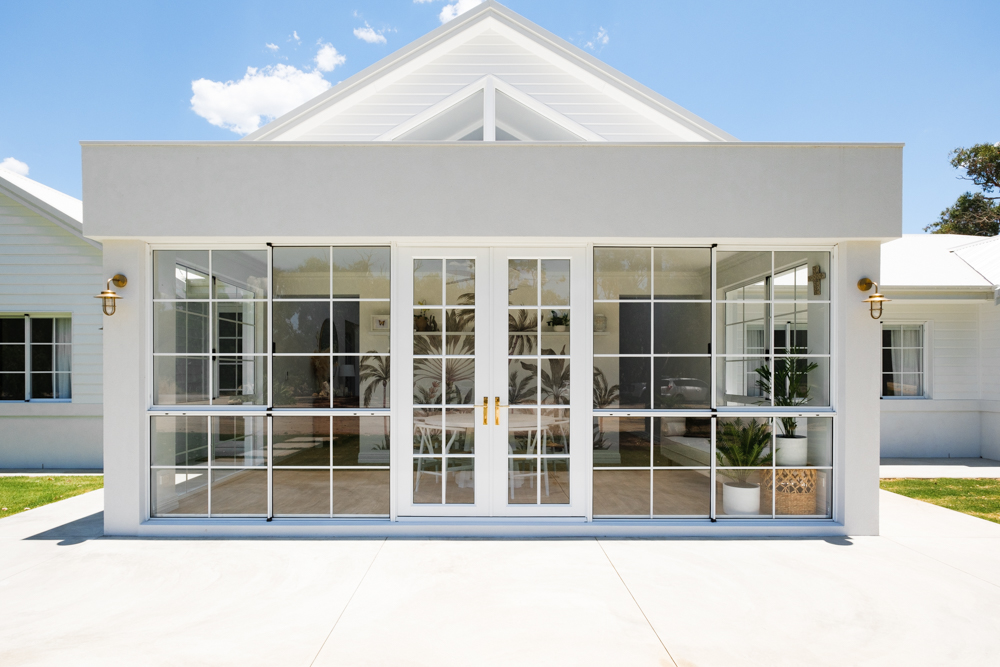 Homes for future generations
When people say they have built their 'forever home', they usually just mean that they will live in it for the foreseeable future. With Holly and Michael, and their surrounding family, they're planning a bit further ahead.
'We will keep these three properties in the family for as long as possible. Our children will inherit them, with the clause that they're never allowed to sell!' Explains Holly. 'Everyone will just be here forever; I don't think anyone ever wants to leave.'
Many historic Plunkett homes have accumulated stories from the different families that have lived within them. But there's something extra special about a family that plans to keep their home for generations. A home that has been built with care and foresight, and the intention of passing it on.