It's not often that your home can be an expression of your life's passion—the culmination of decades of work. But not everyone flips houses in their spare time. Fetia and David have two rare things in common: neither of them have lived in one place for more than a few years and they both have a gift for buying and selling houses. And when two people like this come together and choose their forever home, it's got to be something extraordinary.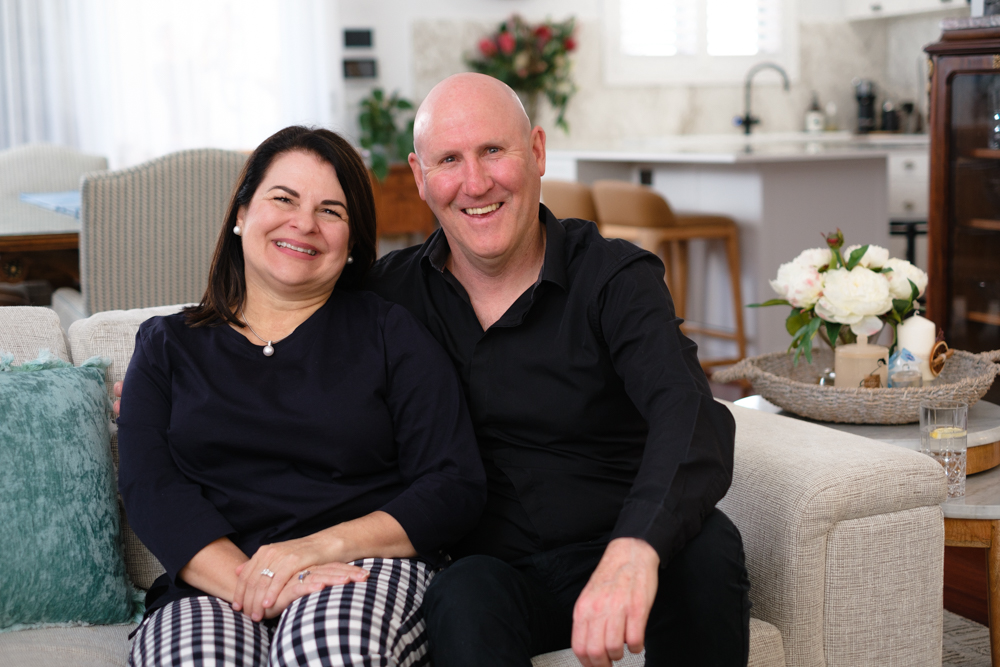 Lives of constant movement
Even though Fetia and David have only been together for ten years, their lives have unique parallels. As a schoolteacher, and later a principal, David moved between regional schools all over WA, spending time in the Pilbara, South West, and Kimberley—he even moved as a child, with his father's job as an Air Force officer.
Fetia's movements began under much more unfortunate circumstances, after her husband passed away. She was a single mother, working part-time, and decided to owner-build a massive two-storey house on her own. By the end, she had builders offering her jobs as a project manager—and instead, she went on to buy, renovate, and sell about 40 more properties over the years.
When Fetia met David, they began to flip houses on a larger scale.
'On a Saturday morning, Fetia would get in the car and say, 'I just want to show you this house' and I would go 'Okay, let's have a look.' And when we got there it's an abomination. There are holes in the floor—one had a hoarder living there. I would say something with lots of expletives, and then, 'We're not going to buy this!' Which she would respond to with 'Well, we've already bought it.'
Fetia's years of project managing her own builds would work their magic—after multiple experiences wrangling tradies, there's little that will rattle her—and a few years later, 'She would have transformed what was a derelict, ugly house into something magnificent, something the whole street can be proud of,' says David.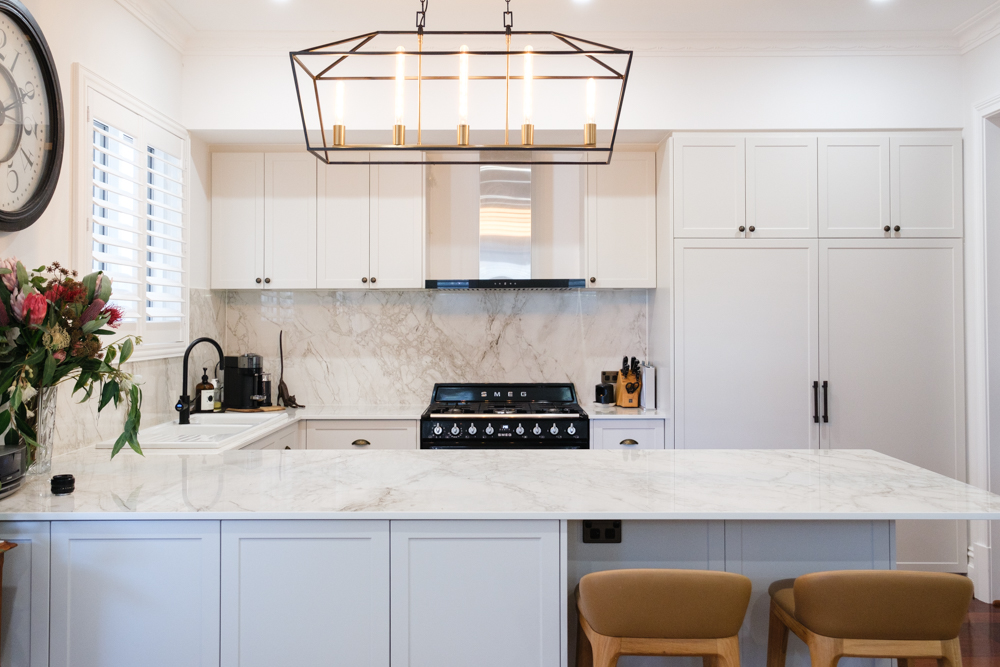 Finding their 'forever home'
After moving twenty times in twenty years—about seven with David—it was a 1923 Plunkett Homes build that spoke to Fetia. An agent knew that they were looking and arranged a visit before the home even went on the market. 'When we walked through this house, it felt like home. It's just perfect for us,' said Fetia.
A historic, red-brick house with bold tuck pointing, on a quiet street in Mount Lawley, where the sounds of live music from nearby pubs still filter through the windows in summer—and this vivacious couple can feel 'part of things without being right in it'.
When they decided to settle down, Fetia and David agreed the house had to be perfect. So, they chose a place with historic charm, where they could renovate in a way that simply ensured the house would 'continue to stand strong'. And now, David says he is 'pretty confident that she'll last another hundred years quite happily'.
'We were attracted to the fact that the house has a story and that we're only custodians of the property. And as time goes on, we will move on, other families will come, and the house will have future stories. So, we're just one part of this house's story,' said David.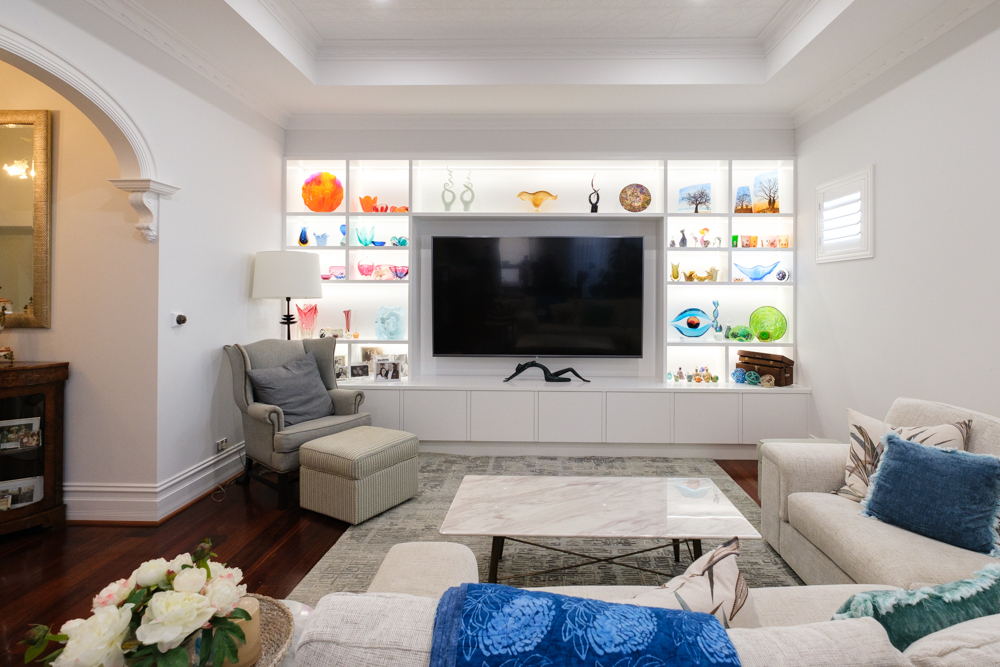 An expression of decades of knowledge
Fetia's practiced attention to detail can be seen in every element of the home. As she walks down the hallway of shiny floorboards and perfectly crafted archways with David, each of them proudly mentions the changes they made and why.
The couple has an obvious appreciation for the history of this heritage-listed home, as they point out quirks like the slightly crooked outer wall of the house, the little old fashioned kitchen window—now a feature in a bedroom—and the original, 100-year-old doors that they've repurposed for their wardrobes. They've also elevated the heritage style by adding classic looking cornices, skirting boards, and pressed tin in the ceiling.
The pure elegance of the home is all new. A polished perfection is embedded in every aspect, from the collection of Murano glass ornaments displayed in the living room to the expansive walk-in wardrobe that leads into a grey marble ensuite bathroom.
'We really just built it for how we live, not for how we'd like to live. We built exactly what we wanted,' says Fetia. And with an enormous theatre room for David, an apartment over the garage for their daughter, and flooring that has been levelled throughout the property—usually in Mount Lawley historic homes exist across several levels—they have certainly designed the house for the long term.
One chapter in their home's story
'Not one person believes that I will stay,' says Fetia, explaining that her family and friends are familiar with her nomadic existence. But she's certain. After so many years of moving, she's ready. And she and David have crafted the definition of their perfect home.
David and Fetia will continue to buy and transform houses—they even already own another house on the same street—but now they've put down roots. And ensured another historic Plunkett home will continue its story.
As David said, 'I just know, that as custodians, we've done our thing while we've had the house. And we hope the next people will maintain that. We've contributed to its history.'