Introduction
If you're looking to buy a property, you might have heard about display homes for sale. Display homes are popular in Western Australia with both homebuyers and investors. They can be an excellent choice for you; however, at the same time, they also have potential drawbacks you need to be aware of. So what are display homes? What are some of the reasons to consider buying one? In this article, we'll take you through the advantages and disadvantages of buying a display home.
What are display homes and can you buy them?
Display homes are finished "sample" properties that are usually open to the public. They're used to showcase the builder's work and to help prospective buyers get a sense of the quality of craftsmanship and design.
Unlike some new builds, such as a house and land package, a display home is complete. Display homes can also be contrasted with a property you're buying from the previous resident-owner in that the display home is new and hasn't been occupied by anyone.
A display home lets a buyer imagine how their house might look and feel when completed. They often feature the best fixtures, styles, and designs that are offered as premium, extra options or upgrades from standard packages.
Display homes are customarily located within the new housing estates and developments that the builder is in the process of completing. From time to time, a display home becomes available for purchase.
The benefits of buying a display home
So what are some of the top benefits of buying a display home? Advantages can include having the latest luxury inclusions and higher investment returns.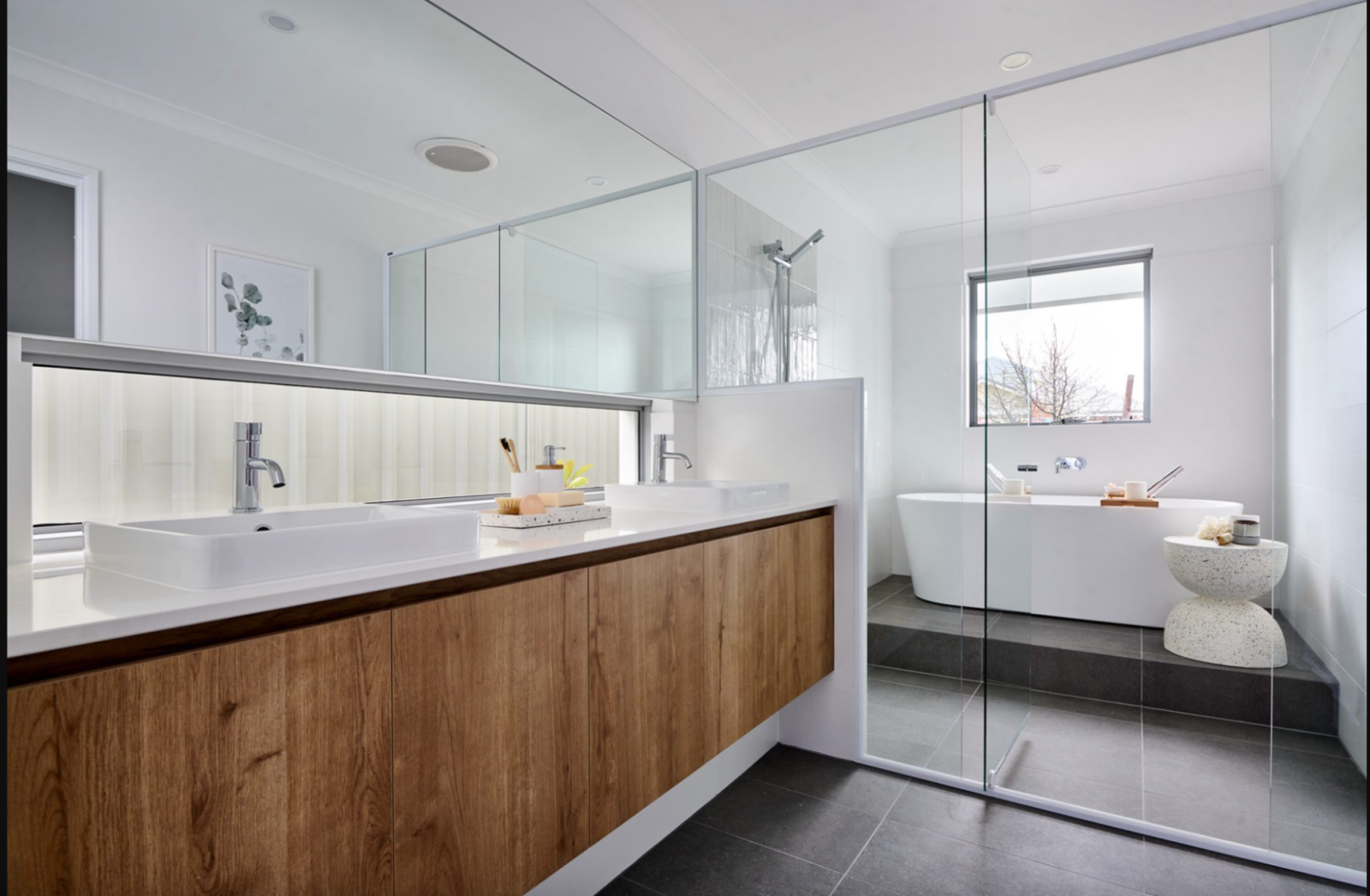 1. Luxury inclusions – fittings and fixtures
When it comes to the visual appeal and first-class quality, display homes can be unrivalled as their purpose is to attract buyers to the development and demonstrate the best of what's on offer by the builder. As such, you could have the best luxury inclusions and the latest design trends and fixtures. Display homes are also maintained and cleaned by professionals regularly, which ensures everything is in excellent condition.
For example, Plunkett Homes' Ambergate Contemporary home features luxurious inclusions such as premium Westinghouse rangehood, cooktop, and oven(s). It comes with ducted reverse cycle air conditioning with controller, 20mm Essanstone benchtops, resort-style ensuite featuring hobless showers, and rectified porcelain floor tiles and wall tiles.
2. Surrounded by quality homes
If your display home is situated in a display village or new estate, you'll be living in an area filled with quality properties as display homes are likely to have premium finishings, fixtures, and fittings. Display villages, too, tend to be beautifully presented with premium landscaping. .
This not only makes it a more pleasant location for you and your family to live in, but it could also have resulting benefits like higher property prices. In turn, this can give you higher rental returns if you're an investor or higher capital gains if you're reselling eventually.
3. Leaseback rental return
If you're an investor or not in a hurry to move into your property, you could enjoy good leaseback rental returns on your new display home.
Often, display homes are sold and rented back to the builder for display purposes. This typically happens while the builder is completing other homes in the area.
You might still be able to move in more quickly than you would if you opted to build from scratch while generating guaranteed income from a tenant who will maintain the property to the highest standards. Finally, the builder might let you buy the display furniture at an attractive discount.
4. Less maintenance to pay and more depreciation to claim
Display homes can make outstanding investment properties. Beyond their high quality and potentially higher yields, they'll likely allow you to take advantage of more depreciation deductions. These can apply to items like blinds, carpets, hot water systems, ovens, cooktops, and air condition systems.
Additionally, since display homes are usually well-maintained and often rented back to the builder, you'll likely have fewer property maintenance costs to cover.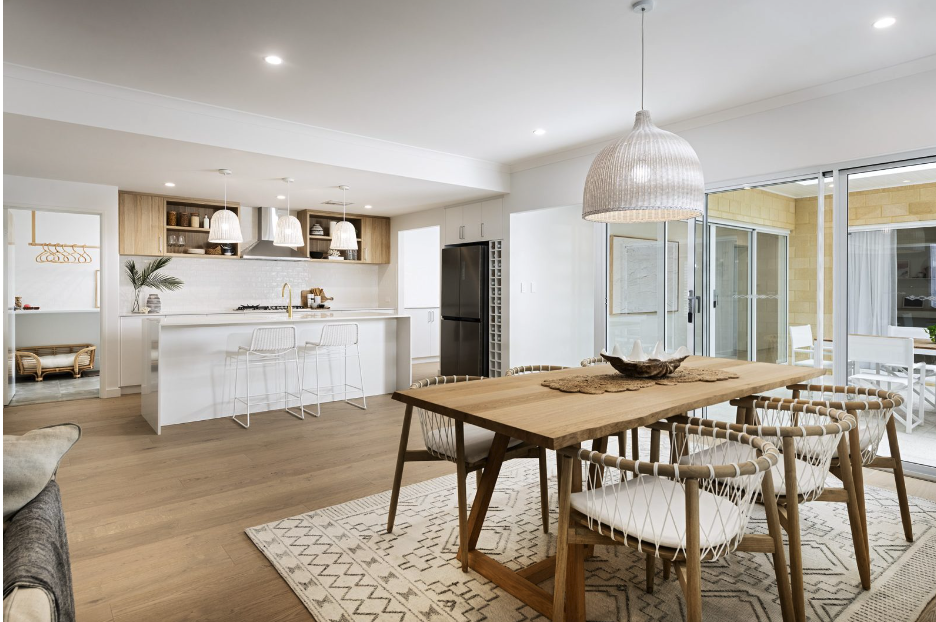 5. Buying a display home as an investment is a great opportunity
Display homes are often situated in new housing developments. This could mean good investment potential, both in terms of capital growth and rental demand and yields, as the area grows.
As the area becomes more populated, there could be more demand for properties. This can be reflected in rental yields and capital growth.
6.Time-saving solution
With a display home, you'll likely be buying into a premium area of the residential estate. All the more difficult decisions would have been made for you; these include the floorplan and design elements.
Although there's a waiting period while the builder leases the home back for dislay home purposes, you end up with the confidence of knowing you have a high-quality home with luxury inclusion and premium finishes, whether it's for investing or living in.
The cons of buying a display home
Display homes can be associated with a few potential limitations. Consider these before deciding to buy.
1. Limited customisation
A display home has been built to showcase the builder's work and upgrades on offer, so buying it could give you limited options when it comes to customisation. You might not be able to make changes to the design without incurring extra costs.
2. Wear and tear
While display homes tend to be well-maintained and professionally cleaned, they are typically open to the public. Your property may not be brand new if it's been in use as a display home for several years or more. The constant foot traffic could mean your new display home comes with a level of wear and tear.
3. Location
Display homes are often to be found in new, developing regions. However, this doesn't necessarily signify that it's in the most sought-after location. These new housing developments may be farther away from central business districts and employment hubs. You might not be close to amenities.
4. Stamp duty
Bear in mind with a display home, you'll be paying stamp duty on the total value of your home and land. In contrast, you pay stamp duty only on the price of the land when you're building your own home.
Conclusion
A display home is one of the options available to you when buying a home. The benefits include luxury inclusions, being surrounded by quality properties, and the opportunity to take advantage of leaseback rental returns. You'll also likely have less maintenance to do, be able to claim more on depreciation, and enjoy good capital growth and rental returns as the area grows.
However, keep in mind you won't have a lot of scope for customisation. Also, you'll be paying stamp duty on both the house and land. The display home could have some wear and tear, and you might be quite far away from business districts and amenities.

Buying a home is a major decision, so take time to work out your budget and determine customisation preferences. Consider what you want in terms of location. If you have any questions about buying a display home, we at Plunkett Homes are ready to help. Visit our display home walk-throughs and feel free to contact our friendly and experienced team today with your query.