Mandurah is the central suburb of the City of Mandurah in WA's Peel region and is approximately 72 kilometres south of the Perth CBD. It is bordered by the Indian Ocean to the west, with Jarrah forests and farmlands of the Darling Range leading east to the bordering wheat belt.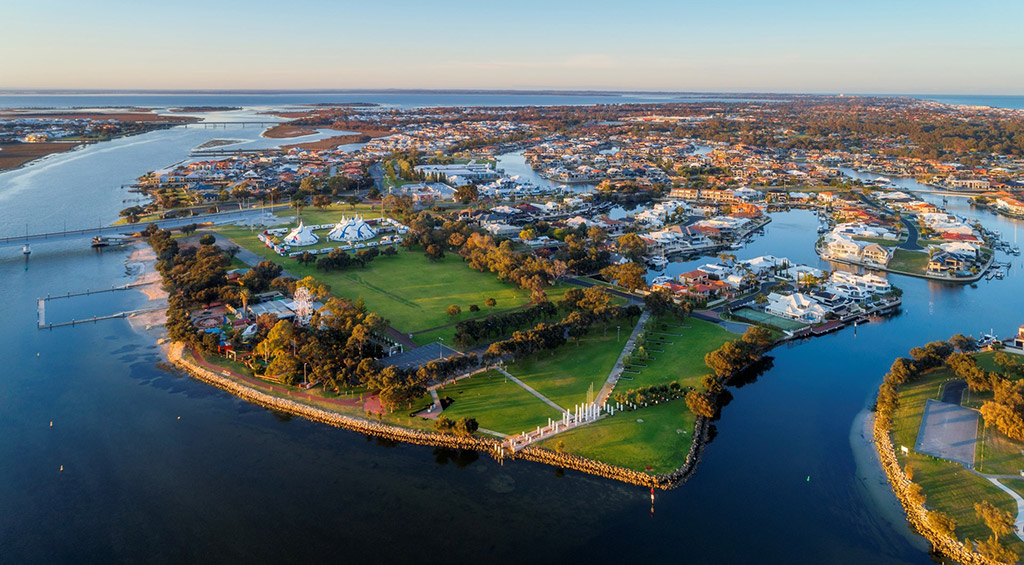 The city's name is derived from the Noongar word Mandjar, meaning "meeting place" or "trading place". Until the post-war boom of the 1950s and 1960s it was little more than a small fishing village. Since then, it has grown to become a bustling hub for boating and fishing activities, a relaxed lifestyle, and very popular amongst retirees. It has grown from isolated holiday communities along the shores of the Peel-Harvey Estuary to a major regional city in just over a decade.
A drive to the Perth CBD will take roughly 50 minutes down the Kwinana Freeway, with a trip on the train taking about the same time in just under 60 minutes, via the Mandurah Station on the Mandurah Line. There are also eleven bus routes servicing the city.
Mandurah is a superb place to live and raise a family. It offers an exciting mix of residential developments, from family homes and modern apartments within new estates to luxurious homes nestled among canal waterways. Mandurah boasts a typical Mediterranean climate and relaxed coastal lifestyle which provides a unique work/life balance opportunity.
There are numerous family-friendly beaches in the Mandurah area such as Doddis Beach, Blue Bay and Mandurah Beach. Other outdoor activities include The Mandurah Country Club Golf Course –
a private, tree lined course, the Mandurah Aquatic and Recreation Centre and the Mandurah Bowling and Recreation Club.
Of course, there are plenty of other activities and sight-seeing destinations in Mandurah including scenic cruises to spot wild bottlenose dolphins, a ride on Mandurah's own Pirate Ship, an exhilarating ride on a waterbike, or perhaps some bouncing sessions at Inflatable World or a climb at the Mandurah Indoor Rock-Climbing Centre.
Mandurah has five distinct shopping areas, including Mandurah Forum, The Bridge Quarter located in the CBD and the Dolphin Quay/Mandurah Ocean Marina built at the intersection of Mandjar Bay and the Peel Inlet. There are also smaller retail areas in Meadow Springs, Greenfields, Halls Head and Falcon.
For schooling options, residents have access to three schools. There are two primary schools –
Mandurah Primary and North Mandurah Primary, and one high school – John Tonkin College. There are plenty of other private and public schools all within the City of Mandurah in neighbouring suburbs.
The population of Mandurah is 7,837 with a density of 1,065 persons per square km. Of the families in Mandurah, 37.3% were couple families with children, 45.8% were couple families without children and 15.8% were one parent families.
Annual growth of the suburb is sitting at 12.5%. Based on settled sales as of 27 June 2022, the median land price in the suburb is $204,000 (reiwa.com.au).
If Mandurah sounds like your cup of tea, why not make the next step? Contact our Sales & Design Team so we can get you started with a house and land package or custom build.